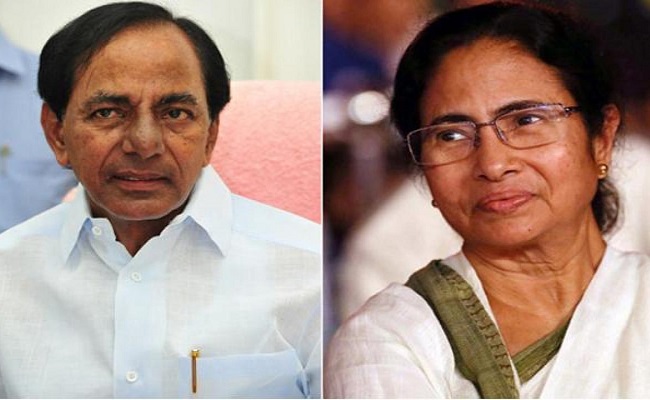 When KCR approached Mamata Banerjee for a possible collaboration in forming a Third Front, he was shown the door by Didi.
Not just Mamata, neither Biju Patnaik, Stalin, Mulayam Yadav nor any other leader that KCR met, showed any interest.
Mamata had clearly said then that there could be no anti-BJP coalition without Congress in it. Much water has flown under the bridge since then.
Emboldened by her successful defence of Bengal, Mamata Banerjee is now eyeing the plum post in Delhi.
She is confident that Prashant Kishore can stitch together an alliance and help her get past the finish line. For this reason, the ace electoral strategist has been reaching out to various regional parties.
In Telangana, he had initially committed to helping out YS Sharmila with her fledgling Party and eve said no to KTR.
But now, he seems to have taken a whole contract to bring TRS back to power given the anti-incumbency against the Kalavakuntla family. This was specifically for the purpose of getting TRS support for Mamata should the occasion arise.
For this reason, he did not hesitate to dump the YSRTP which was anyway not getting much traction.