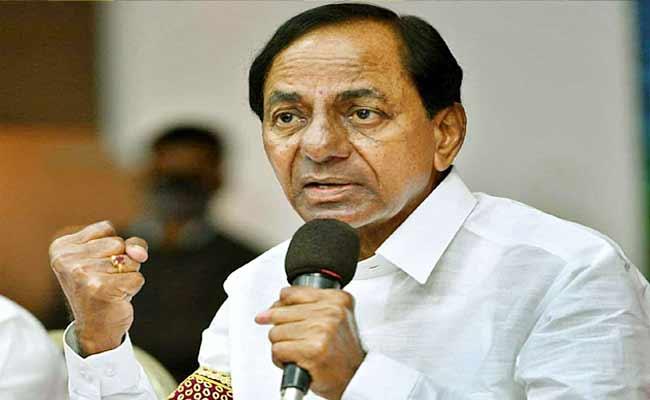 It appears Telangana Rashtra Samithi president and chief minister K Chandrasekhar Rao has dumped the plan of bringing all regional parties and anti-Bharatiya Janata Party forces together to achieve the goal of BJP-Mukth Bharat.
It was evident from the way KCR skipped the grand rally of all opposition parties held at Fatehabad in Haryana held by Indian National Lok Dal (INLD), as part of former deputy prime minister Devi Lal's birth anniversary on Sunday.
Several top opposition leaders, including NCP supremo Sharad Pawar, Bihar chief minister Nitish Kumar, CPI(M)'s Sitaram Yechury and Shiromani Akali Dal president Sukhbir Singh Badal, congregated for the grand rally.
Bihar deputy CM and RJD leader Tejashwi Yadav and Arvind Sawant of the Shiv Sena also attended the rally being held in a show of opposition unity.
All these leaders had earlier met KCR and extended support to the latter's fight against the BJP.
The rally, which was aimed at projecting a strong anti-BJP grand alliance of opposition parties, would have given a great exposure to KCR to project himself as a national leader.
In fact, KCR had earlier thought about attending the rally, but he decided to opt out of it, as he does not want to become one among the opposition leaders.
He wants to project himself as the only alternative to the BJP.
Everybody at the meeting tried to project Nitish as a potential PM candidate of the opposition candidate, though Nitish said he had no such interest.
He, however, said there is no question of a third Front, there should be one front, including the Congress and only then the BJP can be defeated in 2024.
That is precisely why KCR was not interested in this meeting. He wants an anti-BJP and anti-Congress alliance, for obvious reasons.
He is fight against both these parties in Telangana; so, he doesn't want to get associated with the Congress at the national level and fight with it in Telangana.
All opposition leaders who attended the Haryana rally are in favour of including the Congress in the Mahakutami.
But KCR is against including the Congress and wants it to be kept out of the Mahakutami.
In these circumstances, KCR thought that if he attends the rally it would give the wrong signal to people before the Munugode by-election.
So, KCR wants to go it alone in the national politics by launching a national party. Whether he will succeed in his national mission or not will have to be seen.