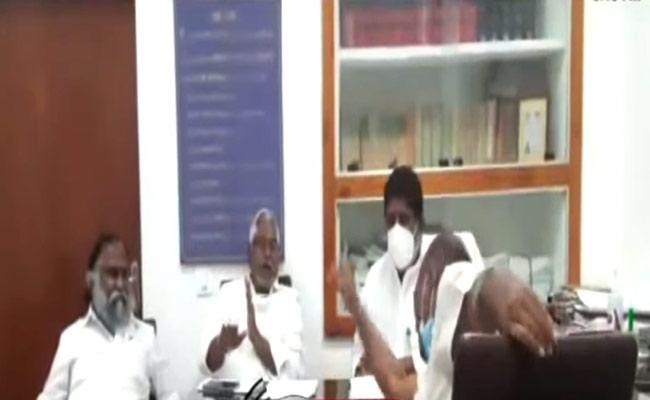 It has been a long time since controversial former Congress minister J C Diwakar Reddy joined the Telugu Desam Party, post bifurcation of combined Andhra Pradesh. He has nothing to do with the Congress now.
Yet, JC, known for his foot-in-the-mouth attitude, has made it a habit to come to the Congress party office in Telangana assembly whenever he comes to Hyderabad and finds himself in soup by making controversial comments on the Congress party.
On Friday, JC came to the Telangana state assembly on the first day of its monsoon session.
He met Telangana chief minister K Chandrasekhar Rao at his chambers on the assembly premises and discussed various issues.
The former TDP MP came to the Congress Legislature Party office in the assembly and started making an attack on the Congress party, in the presence of Mallu Bhatti Vikramarka, T Jeevan Reddy and T Jayaprakash Reddy.
"I already told my friends in the Congress that senior leader K Jana Reddy won't be able to win the by-elections in Nagarjunasagar. Everybody knows why he has lost the by-poll. He is a good friend of mine, but I can say he has no chances of winning," JC said, much to the chagrin of the Congress leades.
The Rayalaseema leader also found fault with the Congress leadership for dividing the combined state.
"We have lost heavily after the formation of Telangana state. We tried hard to secure at least Rayala Telangana, but Jaipal Reddy opposed the same," he said.
Stating that the socio-political situation in Andhra Pradesh has turned worse, JC said he was contemplating migrating from Andhra Pradesh to Telangana forever.
Though JC admitted that he had come in politics only in the Congress party, the Telangana Congress leaders objected to his comments on the state bifurcation and his allegations against the Congress high command.
Bhatti and Jeevan Reddy told JC not to come to the CLP office and make comments against the Congress party every time. Particularly, Jeevan Reddy demanded that the former TDP MP should take back his words.
Having no other option, JC expressed regrets for his remarks and tendered apology to the Congress leaders.
Click Here for Latest Direct-to-OTT Releases (List Updates Daily)