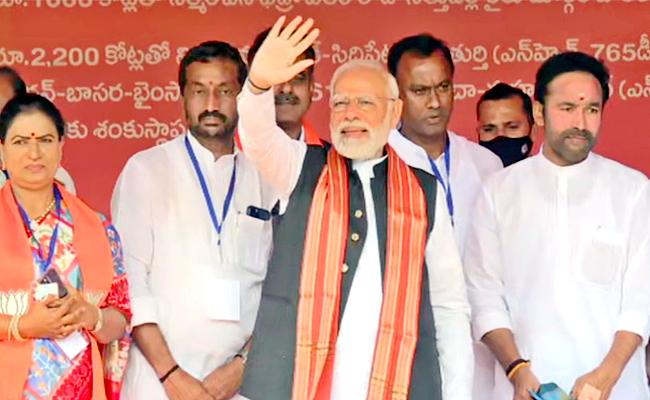 Prime Minister Narendra Modi generally speaks with a lot of restraint and refrains from making any controversial comments.
There were hardly any instances of Modi playing to the gallery by making critical political comments, except during the elections.
But on Saturday, the Prime Minister was at his sarcastic best while addressing the Bharatiya Janata Party workers at Begumpet airport, where he took a dig at the Telangana Rashtra Samithi leaders including chief minister K Chandrasekhar Rao, without taking their names.
Apparently, Modi was angry with the TRS party workers making critical comments, staging black balloon protests and erected banners all along the Begumpet airport road with "Modi Go Back" slogans.
"I have been used to facing such abuses for the last 22 years, so, I have stopped bothering about them. Since Friday, I have been travelling from Karnataka to Tamil Nadu and from there to Andhra Pradesh and now Telangana. Some people have asked me whether I won't get tired of such a hectic schedule. I tell them that I take two to three kg of abuses (from the opposition parties)," he said, amidst laughter.
Modi said the god had blessed him with the capacity to digest all such abuses in his stomach and they would get converted into nutrition.
"It gives me energy which helps me serve the people with more vigour," he said.
The Prime Minister said they (TRS leaders) were hurling abuses at him day in and day out, because they were afraid of the BJP and believed in superstition.
"I request the BJP workers not to get upset or angry with such abusive comments, as these people have nothing to give except hurling abuses. Just enjoy them, have a good cup of tea, and sleep with the hope that lotus is going to bloom here," he said.
Stating that he won't mind being abused by these people (TRS leaders) every day if they think it would benefit Telangana, Modi, however, warned that he would tolerate, if they do harm to Telangana.
"Then, we shall teach them a befitting lesson," he said.