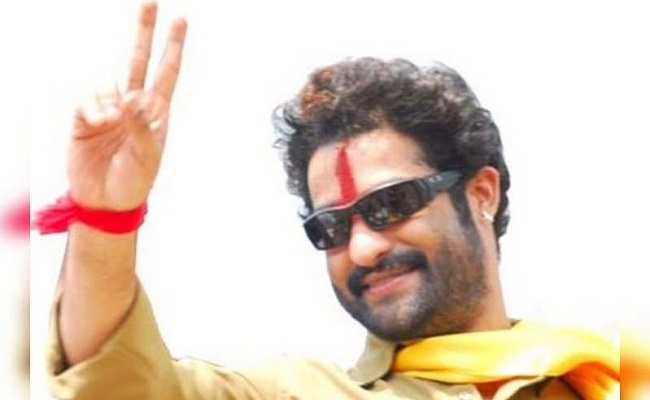 Some TDP leaders who support Chandrababu Naidu and their hardcore folllowers say that Jr NTR is not behaving like NTR's grandson. They have strong objections over his responses when his aunt Bhuvaneshwari was insulted and when the name of NTR University was changed. What's that they expect from Jr NTR if not silence? Do they want him to deliver punch dialogues against Jagan Mohan Reddy? Do they wish to see him blasting Kodali Nani and Vallabhaneni Vamshi?
To answer these questions, in the first place we have to question which party NTR belonged to by the time of his death?
NTR was not in TDP after August 1995. He was suspended from the party by Chandrababu Naidu. Eventually he applied for a separate political party by the name NTR TDP but he breathed his last before it got registered. After his demise, when it was materialized, Lakshmi Parvathi continued with the party name NTR TDP (LP). We know what happened later.
Technically speaking, no TDP leader today including Chandrababu can use the name of NTR as their leader as he was forcefully suspended and not with TDP in the last five months of his life.
Moreover his son Balakrishna who keeps on using his father's name on public platforms joined hands with Chandrababu in dethroning NTR and also got his daughter married to Chandrababu's son. How NTR would have felt had he been alive.
Balakrishna tweeted that there are many in the YSRCP who lived with the blessings of NTR. In that case, Balakrishna also has been living using NTR's name, but still living against his wish joining hands with Chandrababu both politically and personally. It is clearly evident that NTR's curse manifested the form of lame successors for both Chandrababu and Balakrishna as Lokesh and Mokshagna respectively.
Keeping that aside, Jr NTR was insulted by Chandrababu and Co. Balakrishna never owned him as his own brother's son. But still he came forward to campaign for TDP in 2009 and met with an accident as well. Jr NTR tasted bitterness when his mother was insulted by Nandamuri family members. In that case, why should he openly condemn the insult to Bhuvaneshwari in particular. That's the reason he condemned that the insult to women is bad at all times, without taking any names.
TDP fanatics are blinded by CBN and yellow media, so they expect something else from Jr NTR. They should look into the happenings in Jr NTR's life.
Besides, let us talk about the overaction of Kammas in particular. They own Sr NTR to such an extent that the other communities disown out of disgust. NTR was a great actor and leader for sure. But Kammas moving around with his name and photograph, boasting about their blood and breed, Balakrishna's extreme speeches distanced Sr NTR from the hearts of majority of non-Kamma Telugus.
NTR with his efforts became a CM. But Chandrababu and the coup pulled him out from the chair.
NTR with his talent won a place in the hearts of many Telugus irrespective of caste and religion. But the fanatic Kammas pulled him out from the hearts of majority people with their mindless over action.
To explain this phenomenon with an example, Dr BR Ambedkar deserves to be in the heart of every Indian Citizen, being the father of Indian Constitution. His thoughts and ideas have been the most ideal for the well being of every Indian irrespective of caste and religion. But as Dalits over-own him, the other communities may feel that he's not their subject. This is a psychological aspect.
Just imagine what would have been the plight of PV Narasimha Rao's image had Brahmins owned him more and projected him as a God of Economic Reforms in India? As Brahmins didn't oevr-own him, all the communities respect him equally for what he did.
What would have happened if YSR was over owned by Reddys? They hardly did that and rather projected him as a leader of BCs and others. That has been keeping YSRCP victorious.
So here, the bottom line is that Chandrababu backstabbed NTR and the fanatic Kammas behind CBN's TDP are continuing to do the same. So, the true enemies of Jr NTR are these two. He has to fight with them as the true grandson of Sr NTR.
Kiran Sharma