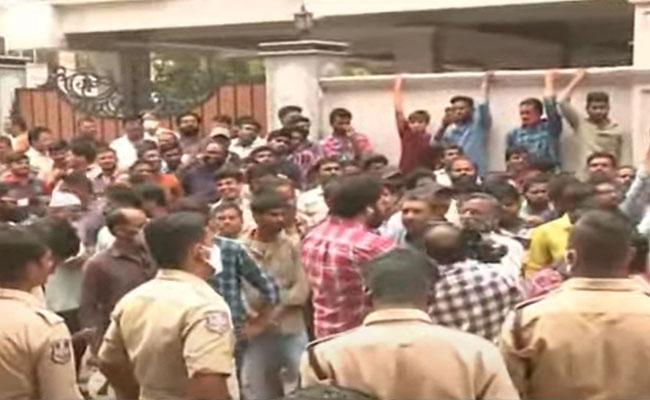 When Rome was burning Emperor Nero was fiddling. That was the age old saying used for many incidents even now. It applies to the Telugu film industry as well. When the industry is crying for justice, the heroes are sleeping with their fat bank balance.
Yes, the heroes are Neros now.
They are called big heroes only for earning sake. They hardly come forward to solve the problems in the industry. They distribute daily provisions during hard times like Covid lockdown and expect huge promotion out of it. They donate something in crisis and pose like philanthropists.
But that is not what they have to do. They need to put the industry in order. It needs a lot of understanding.
Almost all the heroes have hiked up their remunerations during the lockdown times. Every industry has seen a slump after lockdowns. Some businesses have permanently shut down. But the film heroes hiked up their remunerations showing the OTT boom and not coming down for their subsequent films. Eventually the burden is getting mounted on the heads of producers, distributors and exhibitors.
Now the film workers have called for a strike for not increasing their daily wages from the last four years. When asked, the federation is saying that it is difficult as the industry is recovering with the lockdown crisis.
Pawan Kalyan, who is in politics and also a big hero who is demanding more than Rs 50 Cr for each film hasn't come forward to stand beside them. How can a leader who cannot solve a small problem in his own industry expect to get power at the state level?
There are several junior artists in the industry who share screen space with big heroes right from mega heroes, Balakrishna, Nagarjuna, Ravi Teja, Nani and many others. But why are they not opening their mouths in support of them? All that they need is their fat remuneration. The woes of daily wagers within their industry is immaterial to them.
When the films complete their shoots abroad, these junior artistes are going jobless. They are pleading to increase the wages when they get work here. If the film industry cannot oblige even that request, then what for these big heroes and their flamboyance?
The real heroes need not be Sonu Soods. At least they have to come forward and solve the problems of the fellow junior artistes. Otherwise, let their heroism go to hell.
Bhaskar Rao Chaganti