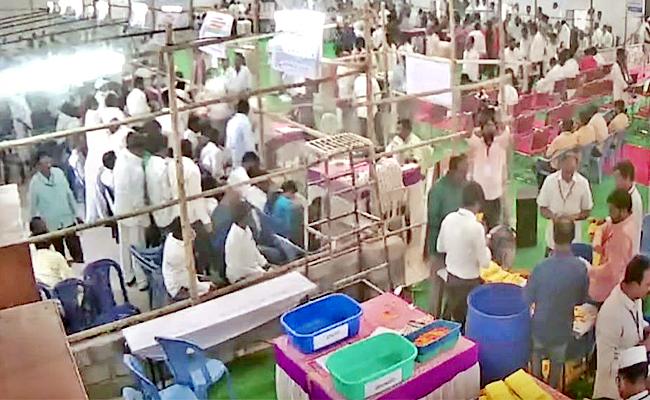 The Munugode election was over and the result was also out. Ever since the campaign, the news about the distribution of money to the voters was not just confined to the allegations on each other but the voters also confirmed it.
Many social media videos are in circulation where the voters confirmed that the TRS candidate gave them more than that of the BJP candidate.
Some have made it clear that the TRS candidate gave Rs 5000 per vote while the BJP candidate distributed Rs 4000. When asked about the Congress candidate, the voters said that they didn't receive anything from her.
When the evidence is so clear why can't the system and the judiciary take up the suo moto action on the BJP and TRS candidates in Munugode constituency? Is the Election Commission sleeping?
It is the open secret that everybody in the system including the voters are either behind money or getting succumbed to power with fear. Can we call this a democracy? This is the pitiful situation in the largest democracy of the world.
A netizen writes, "What's wrong in taking the money when the politicians offer to cast a vote in their favor? They don't show their faces again until the next election. Let them do this charity at least by this means. Poor voters don't build castles with that money. They spend and boost up the local economy. This can be like any other government welfare scheme. After all, the voters cast their vote as per their choice".
If the understanding of the citizens is like this, then how can they ever complain about corruption in the system? It is not possible to change the people.
The system should execute its power in punishing those who offer the bribe to the public. If they cannot do that, at least the cases should be filed on the voters who accept the bribe to cast a vote. Because, it is difficult for the legal system to make the politicians afraid. It is easier to warn the voters. Only then the distribution of money by the politicians can be curtailed.
Coming to the comment on the Munugode result, a social media post goes like this: "Chandrababu Naidu won the Nandyal bypoll during his tenure by throwing money like TRS did in Mungode. But he miserably failed in the 2019 general election. Because he couldn't shell out that much money at all the constituencies. It is proved that the opponent gave a tough fight to TRS in Munugode. So it is going to be a tough time for the pink party in the coming general election for sure".
Usha Chowdhary