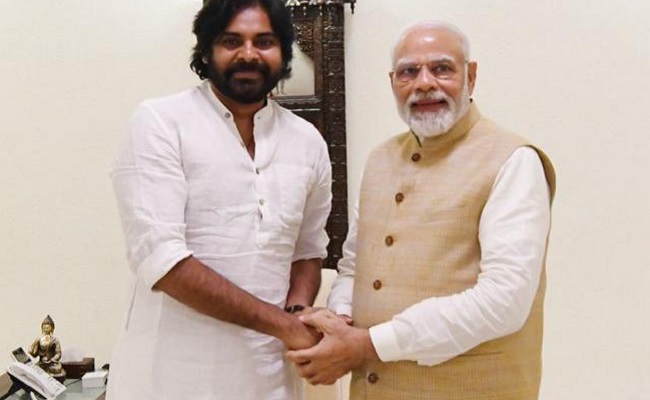 Pawan Kalyan is the popular actor on screen. He delivers lengthy dialogues with pun, punch and power in films. Background score to his dialogues add more drama and make him appear larger than life. But every such dialogue is not his own but penned by writers. He cannot deliver any sentence without the script. Same is the case with his political speeches as well. He performs good when he is prepared well. He cannot speak spontaneously but maintains silence. Well, silence is an ornament for dumb heads.
Pawan Kalyan gets the long script from TDP and he prepares that well before delivering on the dais. Once he is prepared, he still keeps the script in his hand and comes on to the stage. Not missing any point he delivers the speech with his own expressions, pauses and modulations being an actor. Many assume that he himself is speaking all that spontaneously.
Freshy Pawan Kalyan met Narendra Modi and the meeting went on for 30 minutes. Once he came out, he didn't say anything to the press but moved away with a couple of dry statements. When there is no script in hand, he is dumb.
Many feel that Pawan Kalyan might have done a courier boy job by handing over a letter from TDP to Narendra Modi. Generally in such occasions, the power centers who receive such letters say that they will look into it, instruct his secretaries to handle the issue with personal interest. That's a by default courtesy for anyone. Modi also might have done the same, turning the pages of the letter for some time. After that Pawan might have spent a few minutes idly and came out.
Otherwise he might have said what had happened inside. Or else, he might have shown his jubilant mood to the press cameras. He looked dull. With this, many assume that Modi might have warned Pawan Kalyan not to bring TDP's topic before him. Otherwise what could be the reason for his dull grimace.
Finally, we can conclude that Pawan Kalyan is politically ignorant and it is proved that he cannot speak without script. CBN is the only leader who is embracing him closely and helping him with speeches. So Pawan needs CBN to show himself as a politician to the world but not otherwise.
Usha Chowdhary