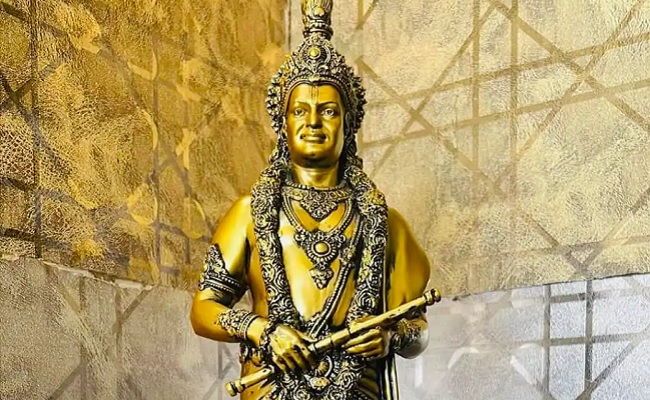 The attempt to unveil the statue of NTR in Khammam, the objections raised by the Yadavas, and the court issuing a stay order preventing the unveiling of the statue have become a topic of discussion in both states.
Firstly, why should there be an NTR statue in the attire of Lord Krishna? While it is true that NTR portrayed various mythological characters in films, choosing the appearance of a Hindu deity for a statue of a politician is widely considered inappropriate.
There are several important aspects to consider here. A similar statue was installed in Pushkar Ghat of Rajahmundry when CBN was the CM. Why were the Yadavas silent about that? What actions did the AP government take during all these years? In fact, there was an uproar when some pilgrims died in a stampede during the 2015 Pushkarams. Many argued that the misrepresentation of Lord Krishna resulted in the stampede as a bad omen. CPI Narayana also demanded the removal of that statue from the spot. However, no action was taken thereafter.
Now, suddenly, when a similar statue was planned to be unveiled in Khammam, the uproar began. What's peculiar is the interest of Telangana Minister Puvvada Ajay Kumar in pushing for the statue's installation. He belongs to the TRS party, and technically, he should not support anything favorable to the TDP. What is KCR doing? Why isn't KTR taking any action against Puvvada? What is Puvvada's motivation here, apart from the Kamma caste factor? Many believe that Puvvada is using this statue politics to favor the TDP solely because he is a Kamma, and no other common factor exists.
If politicians are given the appearance of Hindu gods, then in the future, we might see CBN's statue in the attire of Shiva and KCR's statue as Vishnu. This trend could continue endlessly. What would RSS and VHP do now to prevent such a scenario?
Now, the NTR statue committee of Khammam claims that they are attempting to remove the peacock feather and flute from the statue so that it cannot be associated with Lord Krishna's appearance. The body of the statue is also being painted in gold to camouflage it. What are these antics? The NTR statue politics initiated by CBN has now become a big joke.
Kiran Sharma