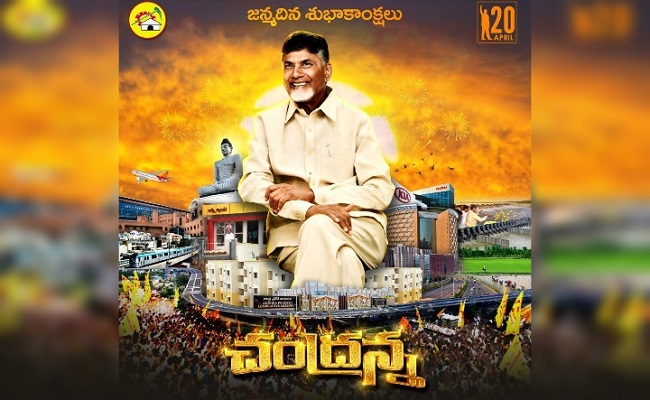 They say that one should talk greatly about the persons who celebrate their birthday. Today is Chandrababu's 72nd birthday. Let us recall the great things he did in his life so far.
Chandrababu is known for using every person as an opportunity and dumping him at the end. If one has to learn how to use and throw the people, it is enough to read and follow the life of Chandrababu. Using the paid media and projecting such viciousness as shrewdness is the way of his inspiring life.
He started his life by stepping into Congress as Youth leader. He made friends with YS Rajasekhara Reddy. After becoming NTR's son-in-law he eventually stepped into TDP only after knowing the power of that party.
He started his politics by politically eliminating the people who ever had the potential to compete with him. In the process he developed rift with Daggubati Venkateswara Rao, his co brother and slowly backstabbed NTR, which is a historical event in AP Politics. He is great because of his ability to project that backstab as Rajaneethi to save the drowning party.
Nandamuri Hari Krishna was sidelined by him. Balakrishna was limited to MLA and made his viyyankudu to shut his mouth for life time. That's the real greatness of Chandrababu.
Chandrababu is great because his vision is so far to predict that some day there may be revolt within the party to give the clutches and more importance to the Nandamuri family as the party originally started by NTR. He smelled this when Jr NTR was developing his fan base and following. His public speaking abilities were also tested, making him campaign for his party. Knowing his power and charm, Chandrababu sidelined him by getting his son Lokesh married to Balakrishna's son Brahmani. With this, Nandamuris can never raise their voice against Babu. This greatness should be understood by everyone on the occasion of his birthday.
Grabbing the credit of others and putting into one's account should be learned from great Chandrababu. Though HiTec city was envisioned and started by Nedurumalli Janardana Reddy, Babu made sure to put that into his account. Similarly when Ring Road, Shamshabad Airport and Metro were visioned by YSR, without any second thought Chandrababu took the credit.
When Hyderabad is developing phenomenally under the rule of KCR and vision of KTR, Chandrababu says that it's all happening because of him. Well, to recall, Chandrababu planned to sideline KCR; he started the Telangana Movement and eventually divided the state into two by his might. So, Chandrababu needs to be given the credit for the formation of Telangana as well.
Babu is also great in using the officers, system and also the leaders of other parties to act as his mouthpieces. That's his invincible greatness.
At the age of 72 still he is still power mongering. He is great as a father to see his son as Chief Minister irrespective of his abilities and achievements. So far the son couldn't even win as an MLA but could become a Minister.
Well, Chandrababu is also great as a loyal son in law who cried in front of media cameras for losing his control on his Kuppam constituency exactly at the age when NTR cried 27 years ago for losing control of TDP.
Chandrababu's greatness should be celebrated today by all his followers and sympathizers. May god bless him with more and more inspiring activities for the rest of his life.