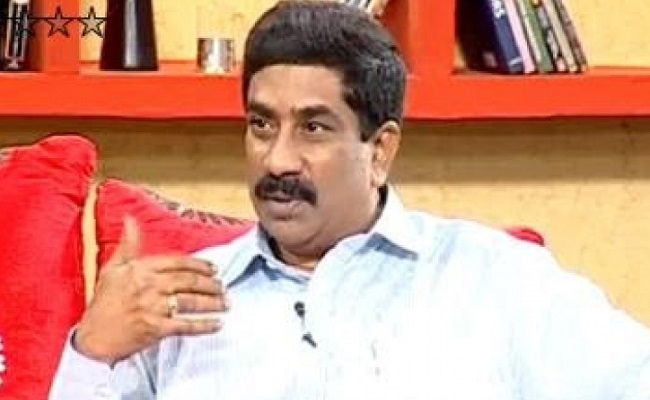 "When I am happy everyone is happy, if not everything is in catastrophe"- this is the feeling of yellow media which can be respectfully termed as the TDP allied media.
Andhra Jyothy Radhakrishna wrote in his Kotha Paluku that the state of Andhra Pradesh would be in doldrums if the people don't bring CBN back to power. Though he mentions Andhra Pradesh in his writings, his inner voice is about Andhrajyothy.
It is really expensive to run any mainstream news daily without the support of government Ads. Until and unless huge funding comes from different corners to run the show, it is very difficult for Andhra Jyothy to survive.
Inside sources say that CBN always made sure to pump in oxygen for his allied media whenever he's in power or not. When he was in power he released money in the form of Ads from the government exchequer. If he's in opposition he would do the same from his party fund. Or else, he makes sure to depute some big hands to extend support to his media houses.
Same is the case with satellite TV channels. Many of the channels don't even make a break even with the kind of Ad revenue they get. The rentals of big offices, Vans, staff salaries and several overheads always fall on the wrong side of the Ad revenue they get from the private companies. CBN and TDP are the letters of mantra for these media channels to survive.
Ever since 2019, the TDP allied media has been hoping that BJP would join hands with TDP and Janasena to bulldoze YS Jagan Mohan Reddy. But the latest developments brought several insecurities not just for CBN and Pawan Kalyan but also for yellow media.
An insider said, "For Pawan Kalyan, being in politics is only earning money. CBN funded him for quite a long time to keep a set of Kapu vote bank intact with TDP and also to use Pawan Kalyan to regain the lost love of BJP. But he failed in building bridges between BJP and TDP. Now the funding to Pawan may be stopped at any time. In case TDP loses in 2024, CBN may stop funding yellow media for sure. Because he has already delivered the 'last chance' dialogue. This is bringing more tremors for the yellow media than anything else".
So, the anguish can be understood. But who can throw a ray of hope on them? The voters are always many times more brilliant than the above mentioned media groups. That was proven even in 2019 and also during the bypolls and local elections.
Usha Chowdhary