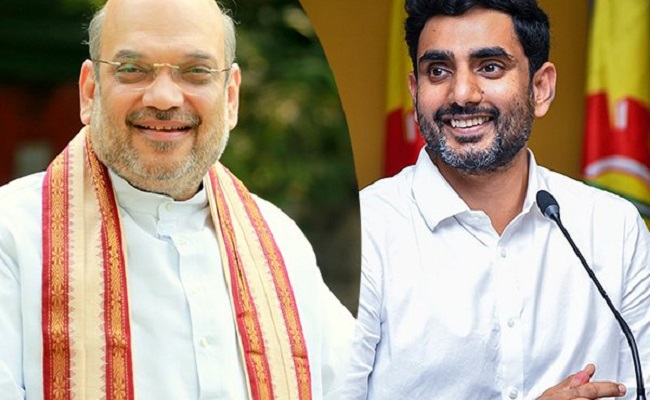 It looks that both Chandrababu and Lokesh are afraid of Jr NTR. They know that he has a proclivity towards politics. The way he campaigned for TDP in 2009 was effective and the father-son duo knows about it.
There has been a big question about the successor of Chandrababu as TDP leader.
TDP cadre is not happy with Lokesh's leadership as they know that he has no potential to hold that responsibility. Party members are keen on bringing Jr NTR into the scene. But Chandrababu and Balakirhsna are stern against this proposal as they know that NTR will camouflage Lokesh permanently.
In the meanwhile Amit Shah met Jr NTR and made his image bigger. There are suppositions that he may campaign for BJP in the coming elections.
So TDP sources started manipulation by bringing Lokesh's name in the gossip columns stating that Amit Shah met him. The TDP allied media says that it was a secret meeting between Lokesh and Amit Shah. Why keep it a secret in the first place? Many understood that it is a schizophrenic write up by the yellow media.
TDP is upset with the meeting of Jr NTR and Amit Shah. With an attempt to dilute this, Lokesh has come up to project himself as the champion of TDP who can participate in the secret meetings with the Central Home Minister. Ludicrous indeed!
Samyukta Dantuluri