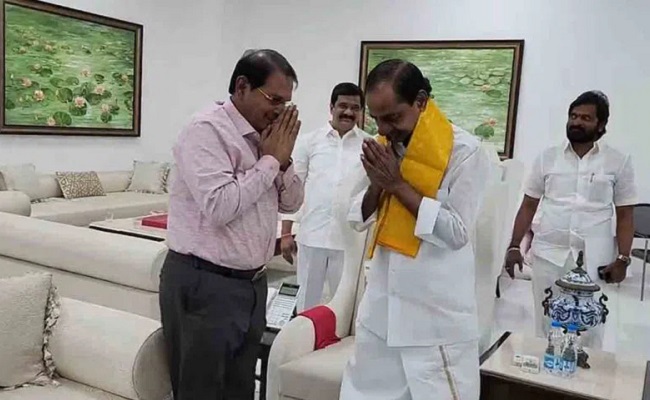 Bharat Rashtra Samithi president and Telangana chief minister K Chandrasekhar Rao, who is getting ready to launch his party in Andhra Pradesh soon, appears to be targeting mainly Kapu leaders.
The reason is obvious. He wants to split the Kapu community votes so that it would not help the BJP to gain ground in Andhra; nor would allow Jana Sena Party to help the Telugu Desam Party come to power.
That is why, KCR focussed on attracting Kapus into the BRS and made a Kapu strongman Thota Chandrasekhar as the BRS president in Andhra. Along with Thota, many of them who joined the BRS are Kapus.
On Wednesday, yet another Kapu leader came to Pragati Bhavan in Hyderabad to meet the Telangana chief minister. He was P Rammohan Rao, retired IAS officer and former chief secretary of Tamil Nadu during the Jayalalithaa regime.
According to sources, Rammohan Rao held discussion with KCR on the latest political developments and the plans of BRS in Andhra. In all probability, he might join the BRS sooner or later.
Rammohan Rao, who was earlier associated with Jana Sena Party as an advisor to Pawan Kalyan, parted ways later after realising that the power star was a non-serious politician.
At a recent meeting, Rammohan Rao snubbed Pawan Kalyan saying film stars and businessmen cannot politics and they cannot expect to bring Kapu community to political power.
"Real leader should emerge from common people among the Kapu community. Till then, one cannot expect the Kapus to come to power and rule the state," Rammohan Rao said.
He further said the development of Kapus had nothing to do with capturing power.
"It is wrong to assume that Kapu community will develop only if it gets political power. Because of this wrong direction, the Kapu caste people are lagging behind in all the fields," he said.
The ex-IAS officer said Kapus should not give up their originality and crave for mercy of others.
"In the last 30 years, Kapus did not achieve what they deserved in politics. First of all, we have to strive for becoming strong financially, industrially, commercially and in various other fields. It is possible only if they excel in education. We shall take pride of our caste, while respecting the other communities," he said.