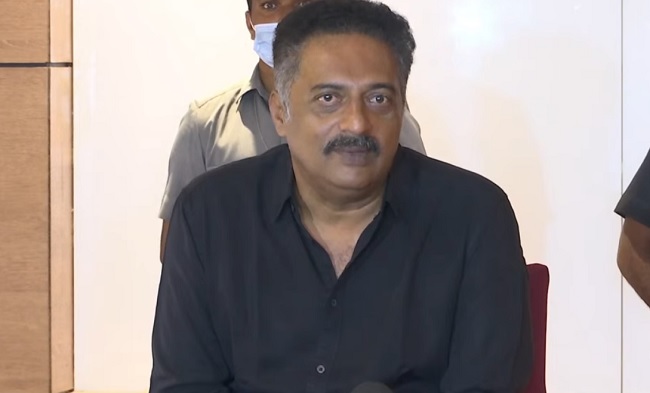 The presence of popular actor Prakash Raj at the meeting of Telangana Rashtra Samithi president and chief minister K Chandasekhar Rao with Maharashtra counterpart and Shiv Sena chief Uddhav Thackeray at the latter's residence on Sunday evoked a lot of curiosity in the political circles.
Though Prakash Raj has fairly good connections with the TRS leaders and had met the chief minister a couple of times at Pragati Bhavan in the past, he had never disclosed his political agenda. The only aspect one knows about him is that he is anti-BJP.
The meeting between KCR and Thackeray was essentially to discuss the strategy to build up an anti-BJP political platform aimed at pulling down the Narendra Modi government. Since Prakash Raj is also part of the anti-Modi bandwagon, his presence at the meeting was understandable.
But who invited Prakash Raj to Thackeray's residence and why he was part of the TRS delegation that held talks with the Shiv Sena chief still remains a mystery and it led to a lot of speculations over the role he is going to play in the coming days.
There is a talk that Prakash Raj had gone to Thackeray's residence only on the invitation of KCR, but separately and not as part of his delegation. And it was informed to the Maharashtra CM's office well in advance, as nobody can just barge into the CM's residence without prior appointment.
It led to the speculation that Prakash Raj may join the TRS shortly and play a major role in KCR's efforts to build up an anti-BJP front. The TRS chief might entrust him with the responsibility of liaisoning with various anti-BJP parties, as Prakash Raj has good connections with Stalin of Tamil Nadu and Kumara Swamy of Karnataka.
But sources say Prakash Raj might not join the TRS directly, since he is a Kannadiga and has a lot of stakes in his home state. He would maintain his own independence in politics but at the same time, he would play a major role in KCR's mission to form a coalition of anti-BJP parties.
It would be interesting to see how Prakash Raj would shape up his political career in the coming days.