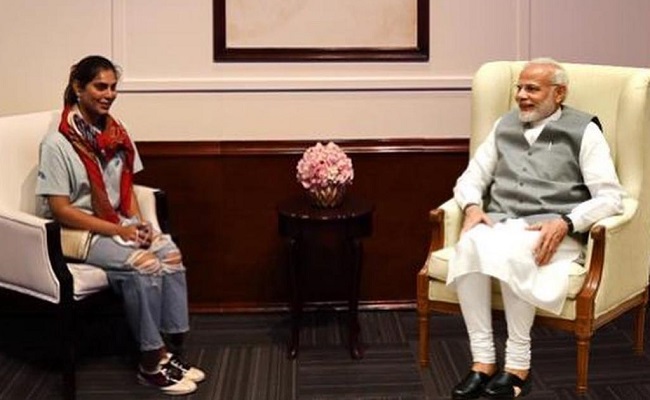 How would one expect to dress up when one gets an opportunity to meet Prime Minister Narendra Modi, the man in highest position in the country?
Well, one would prefer to be either in full suit or a traditional Indian dress or at least a decent dress that presents a graceful look before the Prime Minister.
But after seeing the picture of Upasana Kamineni, wife of popular hero Ram Charan Teja and vice-chairman of Apollo Life, with Prime Minister Narendra Modi on her Instagram on Wednesday, it was surprising and also shocking.
Upasana was in her simple attire with a casual T-shirt and torn jeans, which is the latest trend among the youth. She was sitting right in front of Modi, who was in his typical dignified dress. Both were exchanging pleasantries.
"It was an absolute honour to meet @PMOIndia ji at the @IndiaExpo2020. It was amazing to see innovation, preventive healthcare, women empowerment & preservation of culture to be the main focus. The power of technology gives us opportunity; we must use it wisely @expo2020dubai," she tweeted.
One wonders when the Prime Minister had gone to Dubai and when Upasana had met him, because he was very much present in New Delhi on Wednesday. And if she really had met him, it is for sure that Upasana would not have dressed so casually, if not shabbily.
One of her followers, too, reacted to her dress-up on her twitter: "But that pant doesn't look professional, I feel."
Her Instagram posting revealed the actual truth. "Btw, the photograph is augmented reality," Upasana posted at the end of her Instagram post.
Apparently, an augmented reality image was created at India Pavillion at the Dubai 2020 expo, wherein one could pose pictures with the Prime Minister. That is why, she pointed out that it was an amazing innovation.
And Upasana, who was at her casual best in visiting the expo, had used the opportunity to click a picture with Modi in the augmented reality show!
"Imagine getting a yoga session by the Prime Minister himself! Unreal what technology, innovation, well-being & the power of possibility can do to the human race," Upasana said.
She explained it a little bit more on Twitter: "U can meet @PMOIndia @narendramodi ji too at the @IndiaExpo2020 @expo2020dubai."
Upasana went on to ask: "Did u know that Chandrayaan spearheaded by India, was the first to find water molecules on the South Pole of the moon?"
"More such facts at the expo. Pls pls pls take ur kids. Don't miss this opportunity. Mask up, sanitise regularly & maintain social distancing - u should be protected," she said.