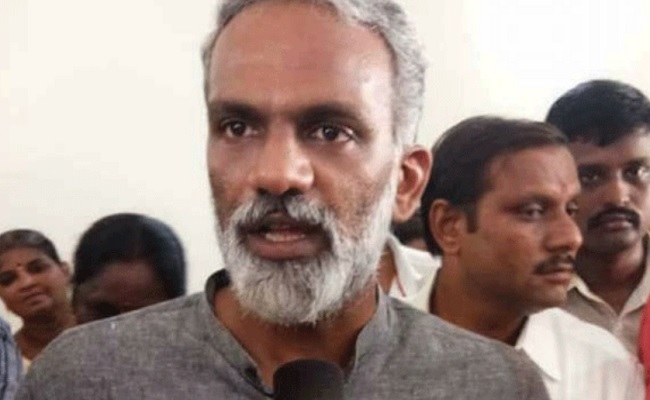 For the last few days, the social media has been agog with rumours that former legislator from Vijayawada and Kapu leader Vangaveeti Radhakrishna would resign from the Telugu Desam Party and join the Jana Sena Party.
Apparently, Radha has not got any assurance from TDP president N Chandrababu Naidu for the party ticket from Vijayawada (Central) assembly constituency in the next elections and that the ticket might go to former MLA Bonda Umamaheshwar Rao.
At the same time, the Jana Sena Party leadership reportedly gave him the assurance about the party ticket, but it is not clear from which constituency he would get the opportunity.
There has been neither denial nor confirmation from Vangaveeti on the rumours about his quitting the TDP. He has remained silent and that only fuelled further speculations from the party. However, he continued to visit the residences of local TDP leaders.
Interestingly, a statement purported to have been issued by Radha Yuva Sena has appeared on the social media on Monday, strongly condemning the rumours that he would be defecting from the TDP to Jana Sena.
"It is absolutely rubbish that Vangaveeti would be resigning from the TDP. It is a conspiracy to defame him. Nobody should believe such rumours and Radha will continue in the TDP. There is no need for any clarifications again and again," the Radha Yuva Sena said in the statement.
Stating that Vangaveeti doesn't have the culture of changing parties for the posts or positions, the statement said the former MLA was known for clean politics and integrity.
"There is no need for Vangaveeti Radha's fans and followers to believe such rumours," the Yuva Sena said.
However, it is not clear whether the statement was posted really by Radha Yuva Sena itself or it was a fabricated one.
"Had the statement come from Vangaveeti himself, it would have cleared the airs. But the statement was made by the Yuva Sena, that too, on social media. One has to verify its authenticy," a source said.