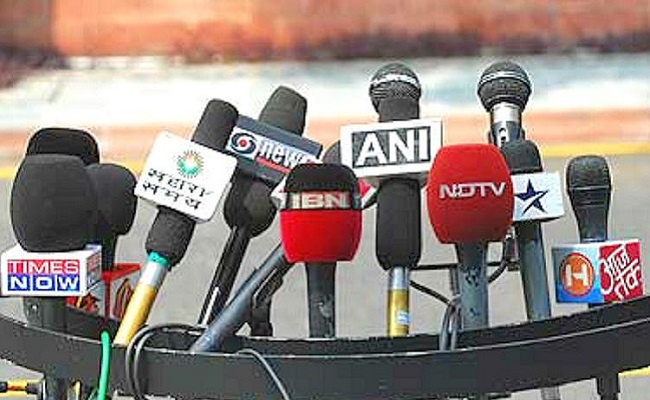 With the number of Coronavirus cases in the country rising in alarming proportions with every passing day, the health department authorities in various states are struggling to find out reasons for the rapid spread of the virus among the people.
Various sections of people are falling prey to this dreaded virus and especially, frontline workers and those who have to be among the people constantly, like media persons, have been affected by the virus.
While the neglect of the people in wearing masks and maintaining social distance is definitely the main reason for the spread of the virus, there are various other means of spreading the virus.
Particularly, reporters of various television channels are worried over the spread of virus through their microphones carrying the logos of their respective organisations.
A WhatsApp message has been in circulation, explaining the dangerous effects of using microphones while taking interviews of the people as part of their coverage of news.
According to this message, each television channel reporter has to do at least two live recordings, besides 10 spot reporting. During the ongoing electioneering in the constituencies like Tirupati and Nagarjunsagar, where by-elections are being held, the channel reporters are virtually doing round-the-clock job, interviewing various sections of people.
"We have to place the microphone before the leaders, officials and other people for voice bite and live telecast, and definitely their saliva droplets fall on the microphones. When the reporters use the same mike to record the voice of others, or use them for person to camera (P2C), there is every chance that the virus might spread from one person to other," this message said.
The message said the microphones cannot be sanitised every time, because sanitisers will spoil the equipment.
"We don't know whether the person we are interviewing has the Coronavirus or not. This is a peculiar situation and we are risking our lives every day. We need to be extremely careful in covering such live events," the message added.
Very true! Be careful friends!
Click Here for Latest Direct-to-OTT Releases (List Updates Daily)