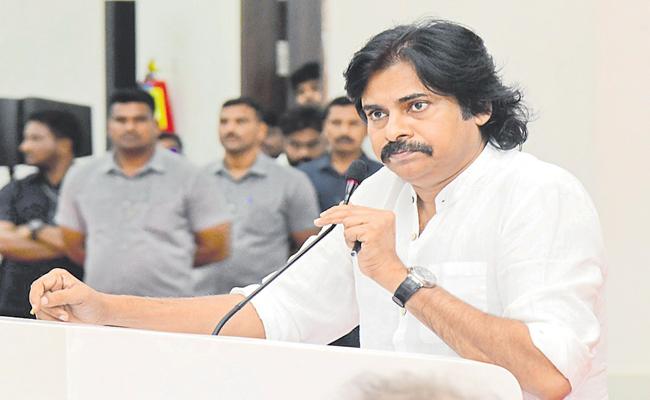 It appears Telugu Desam Party leadership appears to have taken it easy the proposals put forth by power star and Jana Sena Party president Pawan Kalyan for an alliance in the next assembly elections in Andhra Pradesh.
The TDP initially evinced interested in forging an alliance with the Jana Sena Party and party president N Chandrababu Naidu even said it was a one-sided love from the TDP (towards Jana Sena).
A few weeks later, he even said his party was prepared to make some sacrifices to accommodate others to achieve the common objective of pulling down the Jagan Mohan Reddy government in the state.
But now, when Pawan Kalyan issued a statement virtually dictating terms to the TDP stating that the latter has to come down a few steps as part of the alliance, the yellow party has developed rethinking.
A senior politburo member of the TDP told a national media reporter that the party would not like to make any comments on Pawan Kalyan's offer.
"We don't want to react on his proposal for now," he said.
Apparently, the TDP leadership has come to the conclusion that it can face the next elections on its own without joining hands with Jana Sena or BJP.
Naidu has already realized that the BJP will not have any direct or indirect alliance with the TDP and so, other two options of Pawan are irrelevant to it.
That is why the TDP has decided to take it easy with Pawan. It was evident from the tweet of senior TDP leader Gorantla Buchaiah Chowdary, who took a dig at Pawan Kalyan for making unreasonable demand.
"One might require a few grains to weigh measure one quintal of paddy exactly in the weighing machine. But how can one assume that it was only because of these grains that the weighing machine worked?" he asked.
A section of TDP leaders has already started a campaign in the social media that Pawan has actually fallen into the trap of BJP, which is planning to split the anti-incumbency votes to ensure victory of YSR Congress party.
"There is a big strategy in saying that he would not allow splitting of anti-incumbency vote. He wants to gain the sympathy of the people, knowing fully well that he won't leave the BJP. Thus, he is indirectly helping the YSRC by splitting the anti-Jagan vote," sources said.