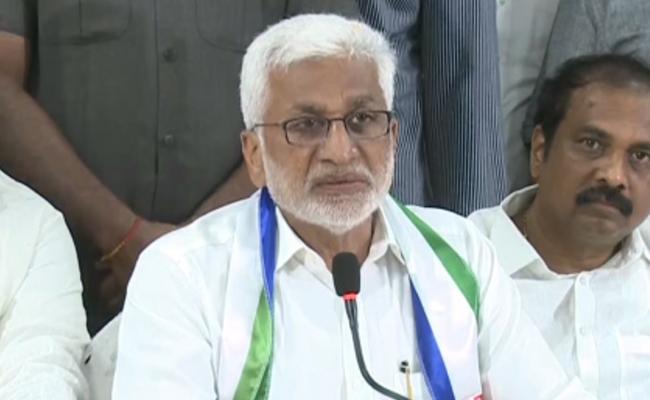 The YSR Congress party leadership on Wednesday announced the affiliated organisations of the party at the district level, in an obvious bid to strengthen the party network at the grassroot level in the run up to the next year's assembly elections.
The party announced the presidents of various wings – youth, farmers, women, BC, SC, ST, minority, students, trade union, commerce, cultural, publicity, weavers, doctors, IT and disabled – besides Seva Dal and Grievances Cell.
So far so good. But the statement released to the media on the appointment of district-level party affiliated wings mentioned Chandragiri MLA Chevireddy Bhaskar Reddy as the state coordinator of party affiliated wings.
In fact, all these days, the state coordinator of the YSRCP affiliated wings had been state YSRCP general secretary and Rajya Sabha member V Vijay Sai Reddy. He was appointed in the post in February 2022.
In November, Jagan appointed Chevireddy as the joint coordinator of the state YSRC-affiliated organisations, as an assistant to general secretary Sai Reddy. But the latest statement gives an impression that Chevireddy has replaced Sai Reddy as the coordinator of affiliated wings.
The statement, thus, indicated that Sai Reddy has been stripped of the post. This led to the discussion as to whether Jagan was not happy with Sai Reddy in the recent past.
For the last few days, Sai Reddy has cut down his aggression in his attack on the opposition parties and maintaining a dignified profile at the national level.
He has been moving closely with the power centres in Delhi –which was evident from the way he was made a panel chairman of Rajya Sabha and honoured with Sansad Ratna award.
During the recent death of actor Nandamuri Taraka Ratna, who happened to be the nephew of Telugu Desam Party legislator Nandamuri Balakrishna, the YSRC general secretary played an important role, because Taraka Ratna's wife happens to be Sai Reddy's niece.
The pictures and videos of Sai Reddy moving closely with Balakrishna and even TDP president N Chandrababu Naidu went viral on the social media. And Sai Reddy was all praise for his dignified posture at the funeral.
"Maybe, this was not taken kindly by YSRC president and chief minister Y S Jagan Mohan Reddy. And that might have had an effect on Sai Reddy's position in the party," sources added.