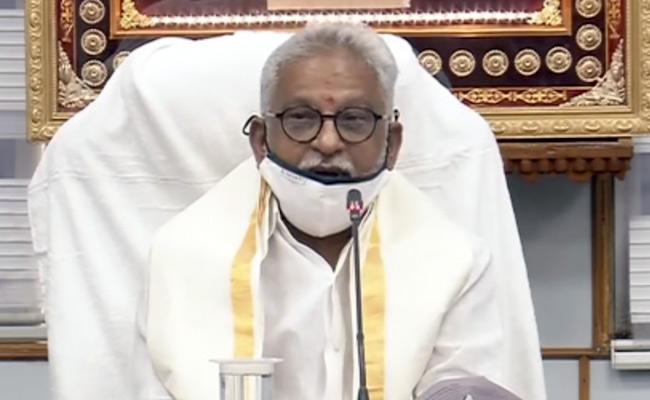 In about two weeks from now, YSR Congress party president and Andhra Pradesh chief minister Y S Jagan Mohan Reddy's maternal uncle and senior party leader Y V Subba Reddy will be completing his term as the chairman of prestigious Tirumala Tirupati Devasthanams.
Subba Reddy took oath as the TTD chief on June 22, 2019, a few weeks after Jagan became the chief minister.
Three months later, the state government appointed a 37-member trust board for the TTD with increase in the number of nominated trustees and special invitees.
Now, the question is whether Subba Reddy will get any extension as the TTD chairman.
There is a possibility that Jagan might extend his term and that of the board by another two years, as there was hardly anything for them to do because of Covid-19 pandemic.
However, according to sources, Jagan might prefer appointing a new chairman for the TTD, if not disturbing the entire trust board.
Apart from fall in revenues due to Covid-19 pandemic, there were also a few controversies in Tirumala during Subba Reddy period.
At the same time, Subba Reddy is also keen on entering active politics, instead of being confined to a spiritual body. He is said to be asking for Rajya Sabha seat in the coming months and Jagan might oblige his request, sources said.
If Subba Reddy steps down, the question is who will replace him. Former MLA of Rajampet Akepati Amarnath Reddy, who strongly lobbied for the TTD chairman post, is said to be in the race again.
Even Tirupati MLA Bhumana Karunakar Reddy, who had held the TTD chairman post in the past, is also interested in the post for a second term.
There is also a talk that instead of Reddy community, Jagan might prefer a BC or a Kshatriya for the TTD chairman post. A decision is expected to be taken by next week, sources said.