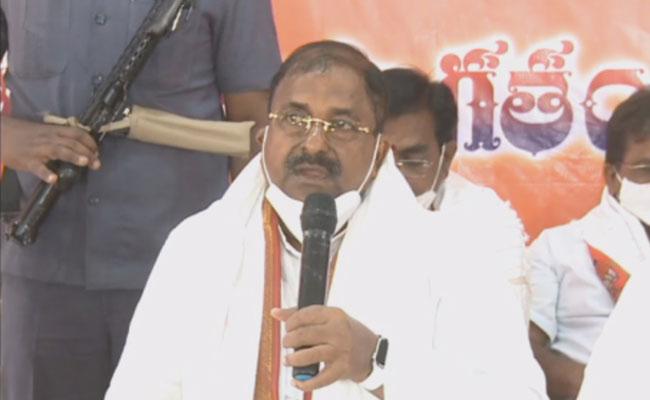 It looks like the days of Somu Veerraju as the president of Andhra Pradesh Bharatiya Janata Party are numbered, if the leaks from the party to a section of media are correct.
The rumours have surfaced after the visit of Prime Minister Narendra Modi to Visakhapatnam on Friday and Saturday. Apparently, Modi was unhappy with Veerraju for not making any efforts to restore the ties with power star and Jana Sena Party chief Pawan Kalyan.
Some newspapers have carried the reports that Modi had not recognised Veerraju and asked him to introduce himself, when the latter came to receive the Prime Minister at the airport.
Nobody knows how far these reports are correct, but according to sources close to Veerraju, some leaders in the BJP core committee were spreading these rumours to project him in bad light before the BJP national leadership.
"There has been a conspiracy to get Veerraju removed from the post and so, when the Prime Minister came to Visakhapatnam, these leaders tried to hijack the entire show, denying any credit to the state BJP chief," a source close to Veerraju said.
However, during the interaction with the BJP core committee leaders, Modi reportedly expressed unhappiness over the lackadaisical attitude of the state party leaders, though he did not directly make any reference to Veerraju.
This led to the talk that Modi has sent a clear message to party president J P Nadda to overhaul the AP BJP leadership and if that is correct, Veerraju would be on his way out from the post.
It remains to be seen who will replace him as the state BJP chief.