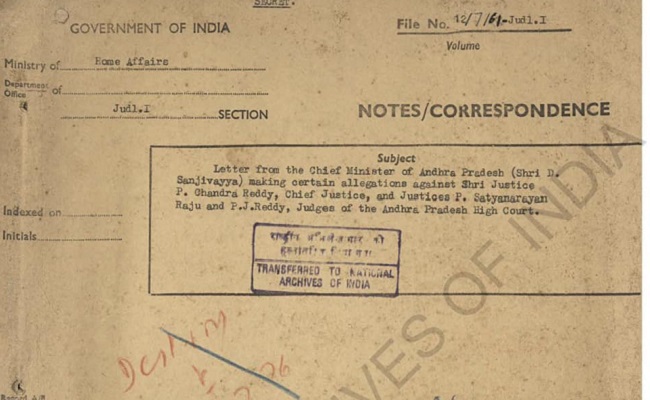 When YSRCP president and Andhra Pradesh CM Y S Jagan Mohan Reddy wrote a letter to chief justice of India Justice S A Bobde making allegations of corruption against senior Supreme Court judge N V Ramana, it created a nation-wide uproar.
Many people, including top legal experts and senior journalists said it was for the first time that a chief minister of a state made strong allegations against judiciary, naming Ramana and some other judges of state high court and accused them of trying to destabilise and topple his democratically-elected government.
Interestingly, this is not the first time that the chief minister of a state wrote to the Centre naming the high court judges and accusing them of indulging in corrupt practices. It happened in Andhra Pradesh itself way back in 1961.
The then chief minister of Andhra Pradesh Damodaram Sanjeeviah, known for his integrity and upright character, wrote to then Union home minister Lal Bahadur Shastri, complaining about then chief justice of Andhra Pradesh high court Justice P Chandra Reddy and a few other judges.
In his letter dated November 4, 1961, Sanjeevaiah wrote to Shastri stating that the affairs of the state high court had fallen on evil days ever since Justice Chandra Reddy took over as the chief justice.
"The sad degeneration in every aspect is beyond description," he said.
He said the whole atmosphere (in high court) was stinking and required radical toning up in the interest of the people of the state.
He alleged that in all appointments and transfers, Justice Chandra Reddy was guided by considerations of communalism and favouritism.
Sanjeevaiah also made similar allegations against other judges like Obul Reddy, P Satyanarayana Raju and P J Reddy stating that some of them were indulging in purchase of plots and selling them at profits.
"On the whole, I hear sickening reports about these persons," he said and requested Shastri, Prime Minister Jawaharlal Nehru and chief justice of India to do justice to the people of the state.
The tone and tenor of Sanjeevaiah's letter to then Union home minister Lal Bahadur Shastri are more or less similar to the opinions expressed by Jagan in his latest letter to chief justice of India.
The only difference is that Sanjeevaiah did not release the letter to the media, while Jagan chose to do so to publicly expose the judges who allegedly were benefitting the TDP and stalling his government programmes.
Andhra Pradesh former chief minister Sanjeevaiah wrote to Centre against corrupt judges? pic.twitter.com/jpX3wfzRPe

— greatandhra (@greatandhranews) October 13, 2020
Click Here for Latest Direct-to-OTT Releases (List Updates Daily)