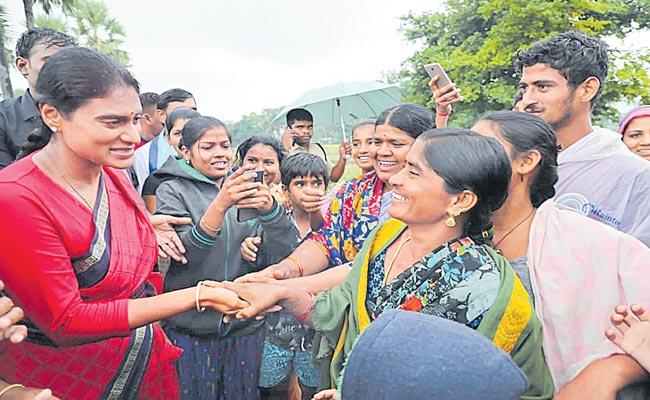 YSR Telangana Party president Y S Sharmila might appear to be attacking the Telangana Rashtra Samithi government led by chief minister K Chandrasekhar Rao, but her prime target is not KCR, but Telangna Congress president A Revanth Reddy.
According to reports in a section of media, Sharmila has launched her party in Telangana not because of her differences with her brother – YSR Congress party president and Andhra Pradesh chief minister Y S Jagan Mohan Reddy, but as part of his strategy to safeguard the family's business interests in Telangana.
Going by these reports, Jagan has roped his sister into Telangana politics deliberately to split the anti-establishment votes. As long as KCR is in power, Jagan does not feel any threat to his interests in Telangana.
But if KCR loses elections, it would be a problem for Jagan to safeguard his interests. Apparently, he got the indications that it will be tough for the TRS to return to power, due to stiff fight from both the Congress and the BJP.
Out of these two opposition parties, the biggest threat to the TRS in the next elections would be from the Congress, which has been witnessing a revival after Revanth Reddy took over as the PCC chief. H
e has been going all out to consolidate the Reddy vote bank, besides attracting the Dalit Christians and OBCs.
And Jagan knows pretty well that Revanth is an out and out follower of Telugu Desam Party president N Chandrababu Naidu.
If Revanth becomes the next chief minister of Telangana, Naidu would definitely target Jagan's business interests in Telangana by influencing Revanth.
So, Jagan has to ensure that Revanth should not become the chief minister of Telangana at any cost.
That is why he prompted his sister Sharmila to launch her political party and take up the padayatra in Telangana, so as to attract different sections of people who are disgruntled with the TRS government and might look up to Revanth Reddy.
"In fact, Jagan got the inputs about Revanth becoming the PCC chief well in advance through his contacts in the Congress like KVP. So, he made his sister launch her party much before Revanth took over as the PCC chief," sources said.
Another interesting strategy adopted by Jagan to ensure publicity to Sharmila was to lure Andhra Jyothy managing director Radhakrishna indirectly.
"By developing good contacts with Radhakrishna, Sharmila successfully planted the theory that all is not well between her and Jagan," sources said.
That is why Sharmila gave interview to Radhakrishna and advertisements to his paper. If the same stories are written by Sakshi or Namasthe Telangana, they are not taken seriously, but if they are carried by a pro-TDP paper, they will have credibility. It is all part of Jagan's strategy, sources said.