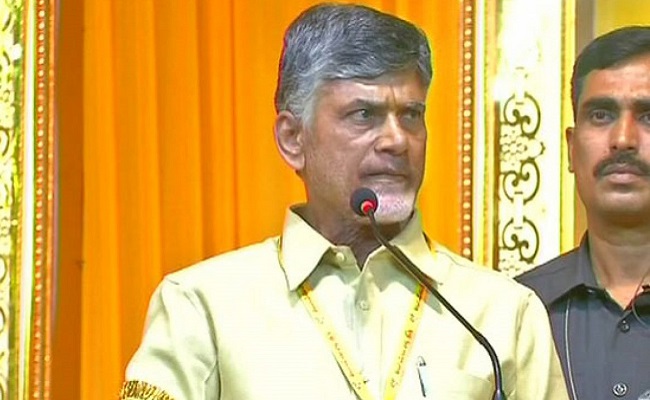 The rude shock to TDP with the proposed jumping news of MLAs into the ruling party, just two days prior to the scheduled Mahanadu, has engulfed the political circuit in Andhra Pradesh with many speculations.
The Mahanadu is going to start on Thursday. But, before Mahanadu, the YSRCP is all set to administer a huge shock to the party.
Already three TDP MLAs-
1. Gannavaram MLA Vallabhaneni Vamsi
2. Guntur (West) MLA Maddali Giridhar Rao and
3. Chirala MLA Karanam Balarama Krishna Murthy - had shifted loyalties to the YSRCP long ago.
Though these three haven't changed their party to avoid reelection in their constituencies, they have expressed their detachment with TDP.
As per the constitution, if more than 50% of the elected representatives from a party doesn't show loyalty on their party openly, then as a group they can join the other party of their choice without any re-election. So, if 12 out of 23 MLAs openly express their revolt on TDP, all of them can join YSRCP smoothly.
So there should be 9 more rebel TDP MLAs. Shockingly, the names of 7 have come up today.
4. Parchuru MLA Sambasiva Rao
5. Repalle MLA Anagani Satyaprasad
6. Addanki MLA Gottipati Ravi Kumar
7. Visakha North MLA Ganta Srinivas Rao
8. Mandapeta MLA Jogeswara Rao
9. Visakha West MLA PGVR Naidu and
10. Visakha South MLA Vasupalli Ganesh Kumar
If this is true, then these 10 rebels from TDP need just two more to join them to jump into YSRCP without any hassle. That makes CBN lose the status of Opposition Party leader as well with just 11 MLAs in hand.
While many are believing this is true, some inside sources feel that it is a blackmail attempt on Chandrababu Naidu.
As Mahanadu is scheduled on 28th, the MLAs are giving "jumping" hints through media. If CBN needs them desperately he can pamper them by offering big things. If he doesn't need them, he will maintain silence. That gives clarity to the above MLAs, so that they can comfortably opt to shift their loyalties to YSRCP openly.
When similar situation has popped up during the reign of CBN in his last term, YS Jagan didn't care a hoot about the 23 MLAs those jumped from YSRCP to TDP.
Will CBN show that attitude now? Or he succumbs to the so called blackmail of his MLAs? We have to wait and see.
CLICK HERE!! For the In Depth Updates on all the OTT Content