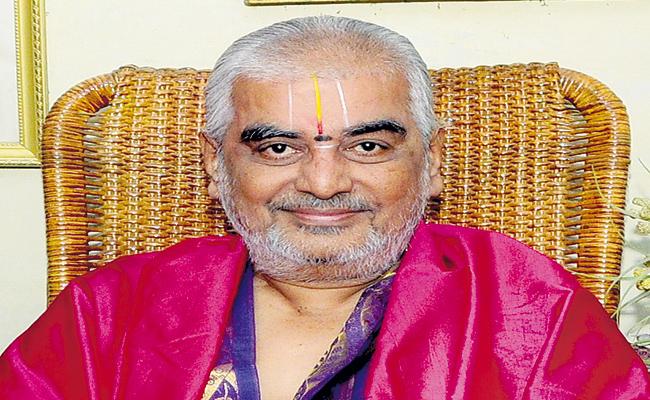 Former chief priest of Lord Venkateshwara temple on Tirumala A V Ramana Deekshitulu is said to be unhappy with the TTD trust board, though he had been brought back into the temple by the Jagan government in December itself.
A couple of days ago, Ramana Deekshitulu made some serious comments against the TTD officials. He said during the Telugu Desam Party regime, more than 20 hereditary priests had been removed from the service in the name of superannuation.
"Though the high court declared that the age limit rule would not be applicable to the temple priests and restored the hereditary priesthood, the TTD has not been taking the forcibly retired priests back into service," he pointed out.
He alleged that the TTD authorities appeared to be still following the orders of Chandrababu Naidu.
"They are not even caring the instructions of chief minister Y S Jagan Mohan Reddy," Deekshitulu said.
Apparently, Ramana Deekshitulu has been bringing pressure on the TTD authorities to restore his regular head priest post. In December last, the TTD trust board appointed him as the "Pradhana Archaka" in the Srivari temple, of course on honorary basis.
He has been asked to take part in the daily rituals of the temple as he was doing in the past, along with other head priests.
However, he has not been given the powers of the regular head priest and he would only be treated as honorary head priest. This is what has hurt Ramana Deekshitulu.
In fact, the Jagan government has restored his priesthood only because of respect towards him. In October, the government issued an order restoring the hereditary priesthood in temples and removal of upper age limit for priests for retirement, the order was not made applicable to the TTD which has its own set of rules.
A disappointed Deekshitulu made an appeal to Jagan to implement the orders for TTD as well. But the state government did not issue any such orders. It has only rehabilitated Deekshitulu in an honourary post that would satisfy him.
CLICK HERE!! For the In Depth Updates on all the OTT Content