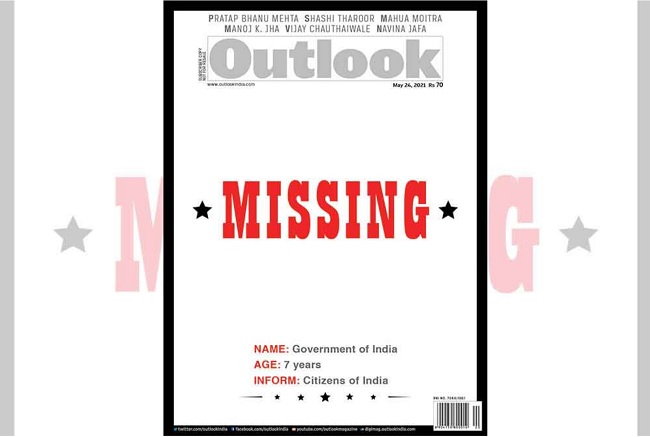 The latest cover carried by popular English magazine Outlook has kicked up a storm in the media circles.
It is perhaps one of the boldest attempts done by any media in the country to take on the Narendra Modi government, which has not been tolerating any criticism of late.
The cover page of the magazine is completely white with just one headline: "Missing."
At the bottom, there are three slugs: Name – Government of India, Age: 7 years. Inform: Citizens of India. At the top are the names of the writers who contributed their articles to the magazine inside.
The magazine claimed that it has evaluated the performance of the Modi government in the last seven years, featuring articles by some of the best-known voices.
In his hard-hitting editorial article, chief editor of Outlook Ruben Banerjee virtually ripped the Modi government apart for miserably failing to tackle the second wave of Coronavirus pandemic that has been taking several lives.
He alleged that the government has virtually abdicated its responsibility and abandoned the people. He pulled up the government for its callousness and ineptitude.
"They promised us the moon, but made us beg to even breathe," the editor said, adding that rather than being tall and towering with wide protective chests, they turned out to be small and weak when the real test came.
The "promo" of the magazine on Twitter received both bouquets and brickbats. "At least @Outlookindia proved it has spine," said one netizen.
"Good to see media houses still have the courage to criticise the govt," said another reader.
"Outstanding Outlook. Appreciate the courage even though names not mentioned.
When you don't have leaders with education and vision this happens. India is pacing to stone age with superstitions. What a pity," said another.
"Bhakton… you have a job at hand. Go for your Rs (money)," said another reader.
Critics have started attacking the magazine.
"They (the writers) are all anti- Modi voices and survive as writers only because of this," said one Modi fan.
"All writers are from clean chit parties. So, very interesting article. Is it so?" asked another.
"No need to read the magazine. The names of "best voices" itself clearly tells what the agenda and objective of this edition is. Of course, unashamedly Bashing the BJP, PM and Centre Govt," said another critic.
"These are the people who pose a dangerous threat to India's democracy. It's the freedom of speech that is giving them an avenue, not for dissent but incitement," says another Modi fan.
Click Here for Latest Direct-to-OTT Releases (List Updates Daily)