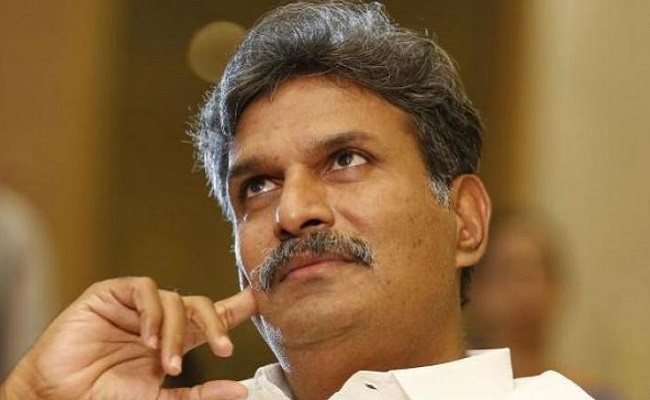 The ongoing infighting in the Kesineni family in Vijayawada is said to have come as a blessing in disguise for YSR Congress party in Krishna district.
All said and done, Telugu Desam Party MP Kesineni Srinivas alias Kesineni Nani has been a strong force in Vijayawada and he has a considerable influence in Kamma community circles.
He won the last Lok Sabha elections with a slender margin braving the strong wave of YSRC president Y S Jagan Mohan Reddy, though the TDP had put up a miserable show in the Krishna district. It was mainly because of Kesineni's personal image and influence.
Now, the TDP leadership led by N Chandrababu Naidu is said to be ignoring Kesineni and encouraging his rivals in the district, particularly his brother Kesineni Chinni, causing a lot of heartburn to the MP.
For the last few months, Kesineni has been making strong comments against the leadership for encouraging his rivals like Buddha Venkanna and Nagul Meera, who he feels had betrayed his daughter Swetha in the Vijayawada Municipal Corporation elections.
The resentment has reached its peak in the recent past. On Sunday, Kesineni openly declared that he would support any candidate fielded by the party in next general election except Kesineni Chinni and three others.
Without referring to Naidu directly, Kesineni said there was a need to completely overhaul the TDP, which was founded by N T Rama Rao with great ideals and noble objectives.
Reacting to reports that Naidu might give the MP ticket to his brother Chinni, Kesineni said the party can give tickets to Gandhiji or any mafia don depending upon party stand and current political scenario.
"In a democracy, both corrupt and honest people are there. I entered politics to do honest politics. I would not allow any corrupt person to enter my compound. I keep my distance from such people," he said.
Kesineni is also said to backing Mylavaram YSR Congress party MLA Vasantha Krishna Prasad against former minister and TDP leader Devineni Umamaheshwar Rao, with whom he has rivalry. Vasantha is planning to quit the YSRC sooner or later and join the TDP.
Analysts say Kesineni's rebellious attitude would ultimately help the YSRC.
"Without Kesineni, the TDP might find it difficult to win Vijayawada MP seat, besides many other constituencies in Krishna district, including Mylavaram, Vijayawada Central, Vijayawada North and Gannavaram," an analyst said.
It would be interesting to see how Naidu would sort out the issue and satisfy the ego of Kesineni.