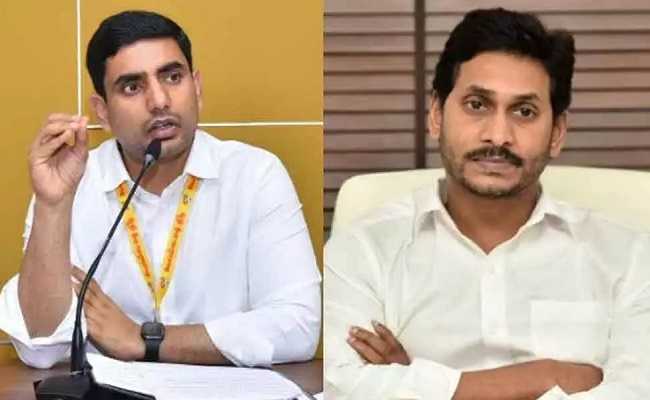 YSR Congress party president and Andhra Pradesh chief minister Y S Jagan Mohan Reddy is making all out efforts to defeat his bête noire Telugu Desam Party president N Chandrababu Naidu in Kuppam assembly constituency in the next assembly elections; and he is confident of achieving his objective.
At the same time, Jagan is also concentrating on Mangalagiri assembly constituency in Guntur district, where he wants to see that Naidu's son Nara Lokesh doesn't stand any chance of winning the seat at any cost.
According to party sources, the chief minister has got the indications that Lokesh might prove a tough nut to crack for the YSRC in the next assembly elections from Mangalagiri for various reasons.
One, there is a strong anti-incumbency against sitting MLA Alla Ramakrishna Reddy, who won the seat from Mangalagiri in the last two terms.
Secondly, the farmers of Amaravati capital region, who constitute a major portion of the voters of Mangalagiri, would definitely vote against Alla.
Thirdly, Lokesh who was defeated by a margin of around 8,000 votes in 2019 elections, has been nurturing the constituency despite facing rejection by the people.
In the last three years, Lokesh has toured every nook and corner of Mangalagiri and developed some goodwill.
So, Jagan needs a tough candidate if he has to prevent Lokesh from winning the seat.
Sources said he might not give the party ticket to Alla Ramakrishna Reddy from Mangalagiri this time. Instead, he would field a BC candidate against Lokesh.
In all probability, the YSRC chief might choose a prominent leader from weavers' community.
He had already given MLC seat to Murugudu Hanumantha Rao who represented Mangalagiri twice in the past and had served as a minister in YSR cabinet.
This has attracted weavers' community to a large extent. In the coming elections, too, Jagan would select a young leader or a woman candidate from this community to contest against Lokesh in Mangalagiri.
"This will definitely turn advantageous to the YSRC. Already, Jagan is being projected as pro-BC, as he has been giving majority of the posts to the BCs – whether it is in the assembly seats or cabinet berths or Rajya Sabha seats or the local body polls," a source said.
If Jagan's strategy works out, it will be tough for Lokesh to face the elections from Mangalagiri again!