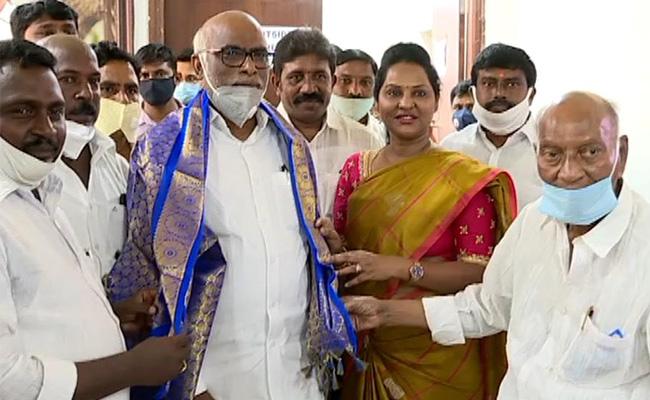 It is more or less certain now that YSR Congress party president and Andhra Pradesh chief minister Y S Jagan Mohan Reddy might drop his plan to abolish the state legislative council.
It was evident from the way Jagan fielded former minister Dokka Manikya Vara Prasad as the party candidate for by-elections to the lone MLC seat under the MLAs' quota.
Ironically, the vacancy has arisen only due to the resignation of Vara Prasad in January after he called it quits to the Telugu Desam Party.
Vara Prasad filed his nomination papers before the state legislature secretary Balakrishnamacharyulu on Thursday, the last date for filing of the nominations.
Since his was the only nomination for the MLC seat and the TDP did not field any candidate as it lacked enough strength, the former minister was declared elected unanimously.
His nomination and election to the council was a clear indication to Jagan's changed mind on the continuation of legislative council.
Otherwise, he would not have fielded the candidate for the council which he seriously desired to abolish on the ground that it had become a white elephant and was not serving its purpose.
Apparently, Jagan has realised that it is unlikely that the Centre will take any decision on introducing the bill in Parliament on abolition of legislative council at least in the next one year.
By that time, there would be fresh elections to one-third of the seats in the legislative council and the YSRC would get a chance to win almost all the seats.
In that scenario, the party would get majority in the council and it would help the party get approval to all its bills without any hassle.
So, why should the YSRC lose that advantage? In such a scenario, Jagan might get another resolution passed in the assembly withdrawing the plan to abolish the council.
The TDP might also not object to the same, since it strongly demanded the continuance of the council.