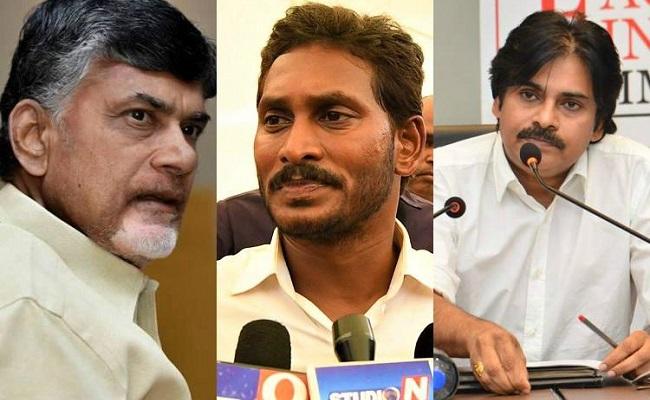 The proposed alliance between Telugu Desam Party headed by former Andhra Pradesh chief minister N Chandrababu Naidu and Jana Sena Party led by power star Pawan Kalyan has triggered a big political debate in the state.
The alliance between the TDP and Jana Sena has not yet been formalised and it has now been confined only to indirect hints from Naidu and Pawan, who called for a unity of like-minded forces to prevent split of the anti-incumbency votes.
Naidu went a step ahead and declared that his party was prepared to make some sacrifices for the sake of unity of opposition forces with the sole objective of pulling down the Jagan Mohan Reddy government.
Within no time, there was a strong reaction from the YSR Congress party.
From senior party leaders like Sajjala Ramakrishna Reddy and V Vijay Sai Reddy to ministers like G Amarnath and Ambati Rambabu to lower rung party leaders have started talking about the TDP-Jana Sena alliance.
They are trying to emphasise on the point that Naidu cannot fight the elections alone and he is desperately trying for an alliance with Jana Sena. And Pawan Kalyan, too, is desperate to make Chandrababu Naidu as the next chief minister.
In a broader view, it might appear that the YSRC leaders are trying to expose the weakness of the TDP and Jana Sena and the strength of their party. But analysts say there is also a possibility of people thinking it as a weakness of the YSRC.
"The alliance between the TDP and Jana Sena is purely their issue. How does it matter to the YSRC? As long as it has the support of the people and the Jagan government is banking on its welfare agenda, any number of such alliances should not matter much to the ruling party," an analyst observed.
He said Jagan Mohan Reddy should focus entirely on taking his welfare programmes to the doorstep of the people, rectify any mistakes in the process and win the confidence of the people.
"Instead, if he and his party leaders harp too much the opposition party alliances, it may give the impression that they are only magnifying the opposition strength and worried about it," he said.
In fact, there is nothing much for the YSRC to bother about the TDP-Jana Sena alliance.
"This is not the first time that one party forges alliances with another party. It happens all over the country before every election. So, Jagan should focus more on consolidating his vote bank, rather than worrying about the consolidation of the anti-establishment vote," the analyst added.