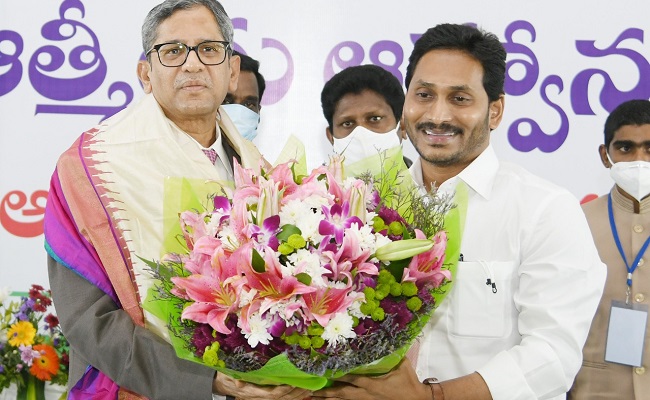 Chief Justice of India Justice N V Ramana had successfully completed his three-day tour to his home district. He met his village friends, colleagues, officials and non-officials during his stay.
Though he completed his tour, people are curiously discussing about the visit and particularly the meeting between CJI Justice Ramana and Chief Minister Y S Jagan Mohan Reddy.
There were discussions in the political and judicial circles that they won't see eye to eye, while a few said that the protocol demands a meeting between them.
But, surprisingly, they met not just once, but thrice during this visit.
The Chief Minister met CJI in the hotel where the latter stayed and invited him for the high tea that the government is hosting. They spent one hour.
The chief minister and the Chief Justice met at the high tea hosted by the government and they spent one hour there too. Interesting part is that the chief justice had offered a spoonful of sweet to the chief minister.
The chief minister and the chief justice met at the high tea hosted by Governor Biswabhushan Harichandan at Raj Bhavan. The two spent one hour, though in the group and in the presence of the Governor.
As neither of them spoke anything about their meetings, the rumour mills are busy spreading their own views and justification.
But, what transpired between them and what would be the result of this meeting is exciting to be watched as the days get unfolded.