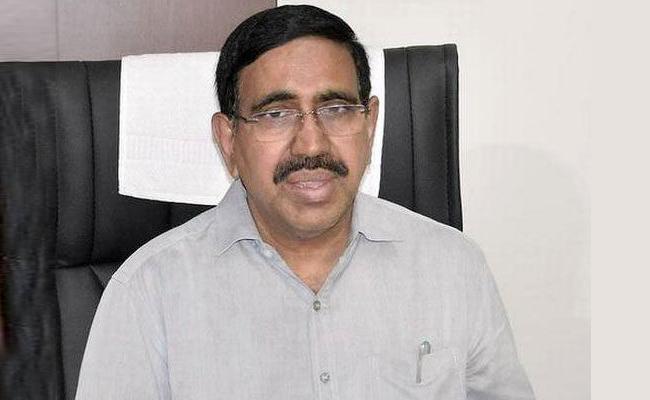 The Crime Investigation Department (CID) of Andhra Pradesh police continues to hound former minister and senior Telugu Desam Party leader Ponguru Narayana in connection with the Amaravati scam and it appears it doesn't want to rest till he is thrown behind the bars.
On Tuesday, the CID serves notices on Narayana, his wife P Rama Devi, his company employee Potturi Prameela and Ramakrishna Housing Private Ltd managing director Anjani Kumar under Section 41-A of Criminal Procedure Code in connection with the inner ring road alignment scam.
The CID asked all of them to appear before the investigating officer at Mangalagiri in Guntur district on March 6 for questioning.
"There is every possibility that the CID authorities might arrest Narayana and his wife after questioning in the scam," sources said.
Apart from Narayana and others, the CID also served notices another four people under Section 160 of the CrPC as witnesses in the case. They include Narayana's daughters Sindhura and Sharani, son-in-law Puneeth and Narayana group's employee Varun Kumar.
They were asked to appear before the investigating officer on March 7 and 8.
"It is evident that the CID wants to fix all the family members of Narayana so that he cannot escape from the prosecution," sources said.
The CID alleged that while designing the alignment of the Inner Ring Road (Eastern By-pass segment for Vijayawada), Narayana personally directed the designing consultant to arbitrarily shift the alignment of the IRR, two to three kilometres away from the 100 feet road from Tadigadapa to Enikepadu.
"The road passes closer to seven of the campuses of Narayana Educational Institutions. He also got changes in the IRR made for the benefit of Lingamaneni Group and Heritage Foods Pvt. Ltd," the CID said in its investigation report.
The CID also alleged that Narayana, who was the former minister for municipal administration and urban development during the Chandrababu Naidu regime, played a key role in preparing the Master Plan of the Capital city/Seed Capital area by guiding the Master Planner M/s Surbana Jurong.
"By using his position in the High Level Committee, Sri P Narayana could select the particular 6.84 sq.km of land to be ring fenced as "Seed Area." Using the prior privileged information about the location of the Start-up Area, he purchased Acres 65.50 cents of agricultural lands through benami transactions, located in and around the Start-up area during June, July, and August 2015 for Rs 4.23 Crores.
The lands were bought in the name of Avula Muni Shankar (who is cousin of Narayana's wife P Ramadevi, Narayana group's employee Potturi Prameela, brother-in-law Rapuru Sambasiva Rao, Varun Kumar Kothapa who is the brother of Narayana's son-in-law.Puneeth Kothapa," the CID alleged.