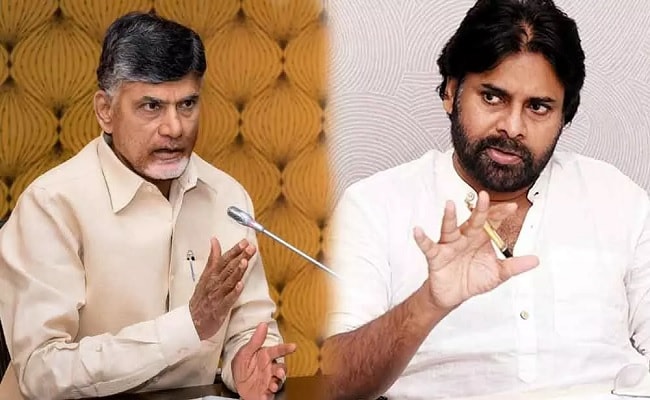 Certain taglines are used by certain politicians repeatedly as if they own the patent. Keeping aside the fact whether people believe it or not, these politicos continue their campaign.
We have already seen how Chandrababu Naidu came up with many dramas in the name of 'Protection of Democracy'. Now, it is the turn of Pawan Kalyan who is saying 'Diverse Benefits'.
Babu's greedy political game was seen when he joined hands with opposition, TRS, BJP. Even he joined hands with the Congress which was responsible for the birth of TDP in the first place.
He did all this by coining the beautiful term 'Protection of democracy'. Using this term and engaging his Yellow media machinery, Babu has made friends foes in one day and vice versa. All this for one purpose, and that is political gains.
Now, Babu's close associate Pawan has taken up a new campaign and his brand slogan is 'Diverse Benefits'.
Sharing his thoughts, Pawan said he joined hands with TDP, BJP in 2014 for diverse benefits of AP-Telangana. Only he knows for whom those 'benefits' were.
With the GHMC elections in the fray, Pawan declared Janasena is out of the race just to support BJP and for 'Diverse Benefits'.
The same Pawan ripped BJP apart in 2019 and his allies have suddenly become rivals now.
Then, Chandrababu wore a mask citing 'Protection of democracy' and now Pawan is donning the avatar of a great sacrifice maker citing 'Diverse Benefits'.
That's the power of elections which shows interesting colors of politicians.
Click Here for Latest Direct-to-OTT Releases (List Updates Daily)