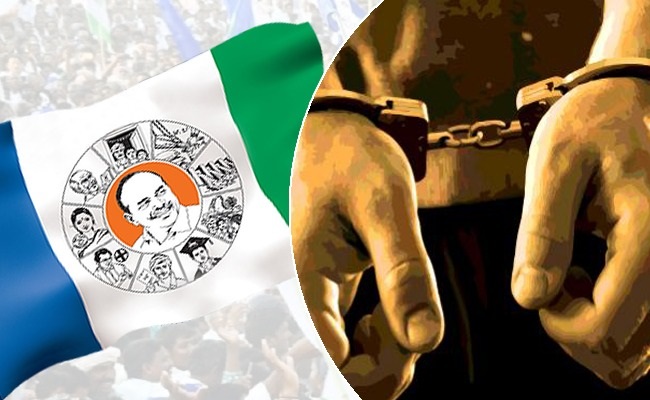 The social media wing of the YSR Congress party, which has done tremendous job in running down the previous Telugu Desam Party government led by N Chandrababu Naidu and bringing Y S Jagan Mohan Reddy to power in Andhra Pradesh in the 2019 assembly elections, is said to be in utter despair now.
Even after the arrest of three social media activists of the YSRC by the Central Bureau of Investigation last week in connection with the alleged abusive posts made by the party's social media activists against judiciary in general and certain high court judges in particular, the YSRC has not made any attempt to come to their rescue.
The three YSRC social media workers – Lingareedy Rajasekhar Reddy, Dhanireddy Konda Reddy and Pamula Sudhir were produced before the fourth additional junior civil judge, Guntur and were remanded to judicial custody till August 11.
They have not got any bail, nor did the YSRC extended any legal assistance to them. The CBI also questioned Gurrampati Devender Reddy, social media in-charge of YSRC and digital director of Andhra Pradesh government last week, but he could get away with the help of a lawyer, as he is in the government.
According to sources, many more YSRC social media activists might face the arrest by the CBI in the coming days, but there has been no response from the party leaders.
The parents of the arrested workers are lamenting that despite repeated requests, the party has not made any attempt to get them bail.
The case was booked on November 11 under sections 153a, 504, 505(2), 506 of Indian Penal Code and Section 67 of Information Technology Act.
The arrests by the CBI and the way it has intensified its investigation into the case have shaken the YSRC social media wing. Since these are non-bailable offences, it is very difficult to come out of the remand, unless there is a strong legal back-up for them or the case is dismissed in the court.
Sources said if the same situation continues, the YSRC social media wing may have to disappear and even if the party tries to revive it before the next elections, not many people might be willing to join after seeing the latest experiences of the social media workers.
On the other hand, the Telugu Desam Party has strengthened its social media wing and has been actively attacking the government with its posts.
Even if the Jagan government gets any of the TDP social media workers arrested, the party is making all out efforts to get them bail within a day.
"There is no need for the social media workers affiliated to the party to go overboard and make wild comments against the people in responsible positions, especially judiciary, as it would land them in jail. There is an already a digital media wing for the government which will take care of responding to the political criticism from the opposition parties," sources close to the YSRC said.