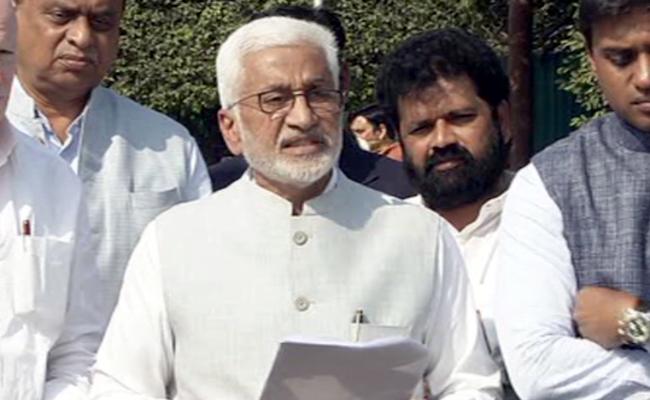 The surprising disappearance of YSR Congress party general secretary and parliamentary party leader V Vijay Sai Reddy's name from the list of Rajya Sabha panel vice-chairpersons on Wednesday raised many an eye brow.
It was only on Monday that the office of Vice-President of India and Rajya Sabha chairman Jagdeep Dhankar released the list of eight panel vice-chairpersons of Rajya Sabha, including the name of Sai Reddy.
Along with him, the list comprised the names of e other members, including Bhubaneshwar Kalita, Dr L Hanumanthaiah, Tiruchi Siva, Sukhendu Sekhar Ray, Dr Sasmit Patra, Saroj Pandey and Surendra Singh Nagar.
Sai Reddy even tweeted thanking the Vice President for nominating him as the panel vice-chairmen and assured his fullest cooperation in the functioning of the house.
But on Wednesday, when Dhankar took over as the RS chairman, he announced the re-constituted list of panel vice-chairpersons of only seven members and Sai Reddy's name was conspicuously missing.
Though nobody made any comment on it, because the earlier list with Sai Reddy's name was not officially announced.
But since he tweeted the list, it naturally evoked some curiosity in the media circles as to why his name was deleted.
Reports from New Delhi said rebel YSR Congress party MP from Narasapuram parliamentary constituency K Raghu Ramakrishnam Raju was the brain behind the removal of Sai Reddy's name from the panel vice-chairpersons' list.
It is learnt he lodged a complaint with Dhankar when he personally met the latter on November 19 against Sai Reddy.
He allegedly complained to Dhankar that Sai Reddy makes derogatory comments on the social media against his political opponents using foul language.
Raju allegedly told the Vice President of India that Sai Reddy lacked the basic decency, decorum, respect and discipline required for Parliament Members.
"He uses cheap comments against the political rivals on social media," he reportedly complained.
Maybe, that might have had some effect on Dhankar in taking away Sai Reddy's name from the panel vice-chairpersons' list, these reports said.
However, sources close to Sai Reddy said the Rajya Sabha chairman's office received a complaint about the involvement of P Sarath Chandra Reddy, brother of Sai Reddy's son-in-law P Rohit Reddy, in the alleged Delhi liquor scam. Sarath Chandra Reddy was arrested in the case and is presently in judicial remand.
Since Dhankar did not want any controversy to be raked up later, he asked his office to call up Sai Reddy on Wednesday to seek a clarification.
But the YSRC leader was busy attending the "Jai Ho BC garjana" rally at Vijayawada and was not in a position to attend any calls.
"Since Dhankar was running out of time, he dropped Sai Reddy's name to be on the safe side, and finalised the names of other seven panel vice-chairpersons," sources said.