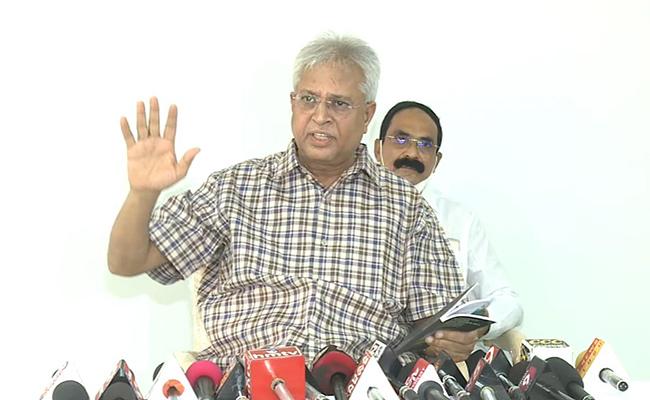 Former Congress MP from Rajahmundry and self-styled political intellectual, Vundavalli Arun Kumar, has not joined any other party after leaving the Congress post-bifurcation of combined Andhra Pradesh.
He has been freely expressing his opinions on all political parties, sometimes supporting one party on one occasion and criticizing the same on the other.
He has been in the news for his fight against Margadarsi Chit Funds and also on the state bifurcation issues.
On many occasions, he has made positive remarks about Jana Sena Party chief and power star Pawan Kalyan, and the latter has also reacted positively to Vundavalli. Both of them have shared a common dais and interacted with each other on a couple of occasions.
On Thursday, Vundavalli himself admitted that he had once thought of joining hands with Pawan Kalyan.
"I felt that I should support Jana Sena Party because I did not want there to be only two alternatives for the people of Andhra Pradesh - the Telugu Desam Party or the YSR Congress party," he said.
The former MP said he sincerely wished Pawan would shine in politics, although he had never felt that the actor had a chance of becoming the chief minister.
"I only wanted to encourage him and give him certain tips, as he is a fresh face in politics. Pawan, too, showed a lot of respect and affection towards me," he said.
However, Vundavalli later dropped the idea of supporting Pawan and gave an explanation for the same.
"The reason is simple. Pawan has joined hands with the TDP. Secondly, he is supporting Eenadu group chairman Ch Ramoji Rao on the Margadarsi issue, which I did not like," he said.
He said Pawan Kalyan is supporting Ramoji Rao on the Margadarsi issue only because of the contempt towards YSR Congress party president and chief minister Y S Jagan Mohan Reddy.
"Pawan has joined hands with the TDP leaders in supporting Ramoji Rao. Since I have been fighting against Margadarsi, I am being targeted," Vundavalli added.