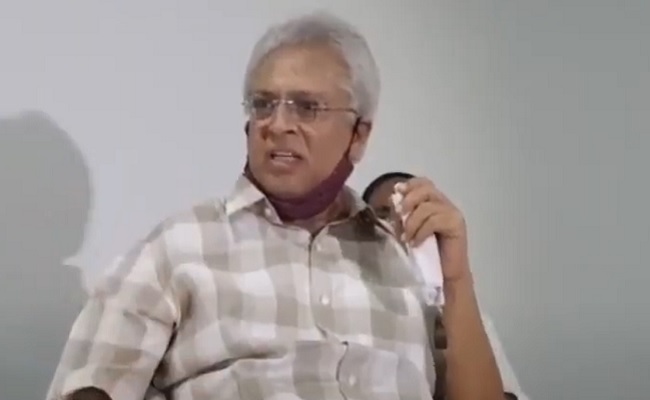 Strange are the ways of former Congress MP and self-styled intellectual Vundavalli Arun Kumar. One doesn't know who he praises and he denounces in politics one day and the very next day, he might change his stand.
On Tuesday, Vundavalli virtually gave a clean chit to power star and Jana Sena Party chief Pawan Kalyan on the latter's stand on preventing the split of anti-establishment vote in Andhra Pradesh.
He denied the allegations made by YSR Congress party leaders that Pawan Kalyan was sold out to the package offered by Telugu Desam Party president N Chandrababu Naidu and was attacking the Jagan Mohan Reddy government.
"It is a baseless allegation. Pawan is a different man. He is not the kind who will succumb to packages or money power. He has his own political thinking and conviction," Vundavalli said.
He, however, has a word of caution for the Jana Sena Party chief. He said Pawan Kalyan cannot win elections if he depends only on the votes of one caste (Kapu). Unless people of all communities vote for him, he cannot succeed in electoral politics, the former MP said.
"In the past, people had some faith in Chiranjeevi as they believed he would bring in change. That is why he could get at least 18 per cent votes. But Pawan Kalyan could not create such a confidence in the people. That is why, his party did not get much votes," he said.
As usual, Vundavalli targeted the Jagan Mohan Reddy government saying it was favouring only those sections which had voted for YSRC in the last elections and those who voted against the party have not been getting benefits.
"This is not but cheating the people," he said.
The former MP also came down heavily on the Bharatiya Janata Party and the Central government for communalising politics.
He wondered why YSR Congress party, the Telugu Desam Party and even Jana Sena criticise one another, but will not utter a word against the BJP.
He demanded that the TDP and Jana Sena should tell the people as to whether they were opposing the BJP or not. He wondered why even hard core Congress leaders were joining the BJP for their selfish ends.
He lashed out the BJP-led Centre for completely ignoring the Polavaram project.
"I don't have confidence in the Centre completing the Polavaram project in the near future. I will be happy if it converts the dam at least as a barrage," he added.