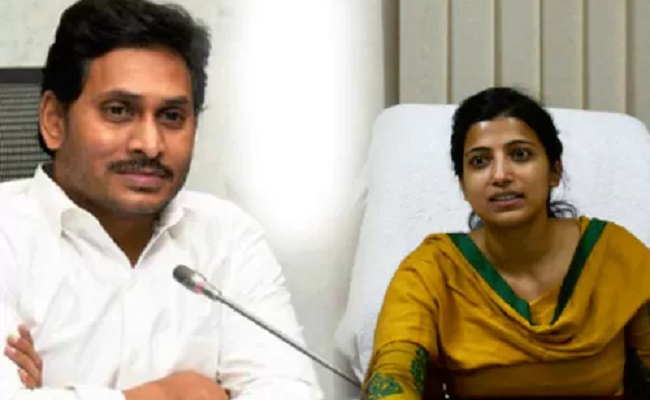 One of the bright women IAS officers Amrapali Kata, who has been on central deputation for the last two years, met Andhra Pradesh chief minister Y S Jagan Mohan Reddy in New Delhi on Tuesday morning, raising many an eyebrow.
Amrapali, a Telangana-cadre IAS officer of 2010 batch, who has been working as deputy secretary in the Prime Minister's Office since September 2020, came to Jagan's camp office at Janpath in New Delhi and held discussions for about 15-20 minutes.
It is not exactly known whether she had come to meet Jagan on official work, as she works in the PMO and it was only on Monday evening that the chief minister had met Prime Minister Narendra Modi.
Maybe, she wanted some clarifications on the issues discussed by the chief minister during his meeting with Prime Minister.
"Otherwise, officials working in the PMO do not meet any political leaders outside the office," an official said.
However, there are also reports that Amrapali might have met the chief minister on personal work. Maybe, she is trying for a deputation to Andhra cadre to serve under his rule. If Jagan writes to the Centre seeking her transfer to AP cadre, it might materialise.
Amrapali hails from Viskahapatnam, where she was born and brought up. She did her schooling in the port city, where her father was working as a professor in Andhra University. She studied B Tech civil engineering from the prestigious IIT Madras.
Later, she did her post-graduation at the famous IIM-Bengaluru from 2004 to 2006. She got her MBA degree from India's ivy league B-school Indian Institute of Management in Bengaluru.
She got 39th rank in the challenging UPSC exams and was the youngest person to have cleared it.
She served in Telangana in various capacities including sub-collector of Vikarabad and later Collector of Warangal. During bifurcation, Amrapali opted for Telangana cadre.
As a Warangal district collector, she took several daring steps and she was even revered as a goddess by the locals.
Obviously, the Telangana government did not like Amrapali's personal glorification.
She was insulted by minister K T Rama Rao at a meeting in Warangal and later, she was shifted to Greater Hyderabad Municipal Corporation as one of the assistant commissioners. Since then, she was sulking.
In 2019, she opted for central deputation and was appointed as personal secretary of Union minister G Kishan Reddy. Later, she moved to the PMO as deputy secretary.
She is expected to be in the post till October 27, 2023, but now, she seems to be trying to shift to Andhra cadre.