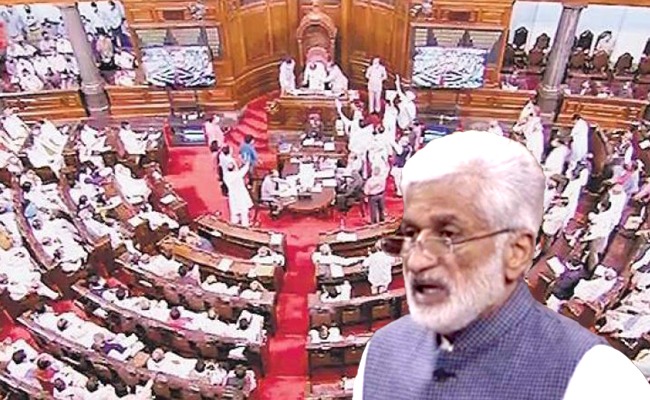 At a time when the entire opposition in the Parliament was raising a hue and cry over the controversial Pegasus spyware issue on Tuesday, the stalling of proceedings by YSR Congress party MPs on issues pertaining to Andhra Pradesh raised many eyebrows.
In Rajya Sabha, the YSRC MPs led by parliamentary party leader V Vijay Sai Reddy staged a protest demanding an immediate discussion on special category status to Andhra Pradesh by suspending the listed agenda.
Sai Reddy issued a notice in Rajya Sabha seeking discussion on SCS to AP under rule 267.
Though Rajya Sabha chairman M Venkaiah Naidu turned down the request citing rules, Sai Reddy insisted that the debate be held on special category status.
He even went into the well of the House disrupting the proceedings leading to the adjournment of the House.
In Lok Sabha, too, the YSRC MPs led by Peddireddy Mithun Reddy demanded discussion on Polavaram project in Lok Sabha.
The MPs staged a protest by standing in the well. They demanded that the Centre should make its stand clear on the issue of pending bills and approvals for the Polavaram project's revised estimations.
There is nothing new in both these issues, as the ruling YSRC in AP brought them to the notice of the Centre through letters, personal representations and raising them in Parliament in the past.
The Centre also made its stand on SCS and Polavaram umpteen number of times.
Yet, the YSRC MPs chose to stall the proceedings of the LS demanding discussion over SCS and Polavaram, knowing fully well what the Centre is going to say.
The MPs had never stalled the proceedings in the past over these issues.
This has led to the talk in the media circles that the YSRC MPs had deliberately chosen to disrupt the parliament proceedings to help the BJP government to divert the demand of the opposition parties for a debate on Pegasus spying issue.
In any case, the Pegasus spyware issue has started rocking the Centre and it has to give answers to the queries raised by the opposition.
Perhaps it wants to buy time by taking the help of friendly parties like YSRC to divert the attention of the opposition by raising other issues, so that it could buy time for replying to the debate on spying issue.
Click Here for Latest Direct-to-OTT Releases (List Updates Daily)