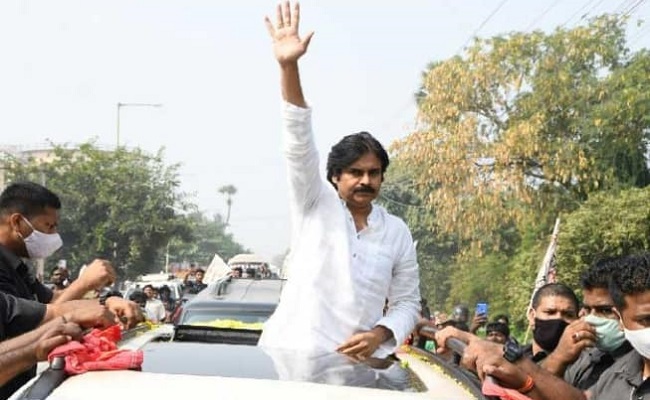 The sudden take on Kodali Nani by Pawan Kalyan calling him 'a bodi lingam' brings many suspicions and conclusions with regard to what is happening in the backstage of AP politics.
It is known that for quite a long time that the Civil Supplies Minister Kodali Nani has been branded as a politician who gives fitting replies to the opposition party leaders for various allegations on the ruling government.
Though the language used by Nani has some criticism, the opposition never attempted to confront the logic and reasoning in Kodali Nani's statements.
Let us see what the public has been sharing on this new development from the side of Pawan Kalyan.
Bhaskar Kumar, an IT professional from Vizag says, "This is a clear indication of Chandrababu's backstage act. He and his son have been targeted by Kodali Nani in every press meet. There is no drama or protest from the public, as both Nani and CBN belong to the same community. So now, CBN wants to see how Kodali Nani responds if someone from some other community attacks him with insulting words. In the process, CBN found Pawan Kalyan as a scapegoat. He is using him. If Kodali Nani responds to Pawan in the language he regularly uses for CBN and Lokesh, then the issue will be given a color of Kamma-Kapu color. That could be the strategy".
Another opinion by Fazi, a shopkeeper in Kadapa is, "Pawan Kalyan never looked this confident in recent times. He was always confused, under confident, ineffective or superficial in public speeches. But this time, he spoke like delivering punch dialogues from his films. There could be some professional script writer behind. This is a prepared stunt but not spontaneous".
Another citizen by name Sesh Kumar said, "He wants to mess up with Kodali Nani intentionally. If Nani hits back with insulting words, he can use the same for his political benefit by instigating caste equations. So, Perni Nani may reply now instead of Kodali Nani".
"TDP wants to put a caste fight between Pawan Kalyan and Kodali Nani. Pawan might not have messed up with Nani without the backend 'support' of TDP", said Vijay Raj, an MHRM student from AU, Vizag.
On a whole, we have to see what lies ahead.
Click Here for Latest Direct-to-OTT Releases (List Updates Daily)