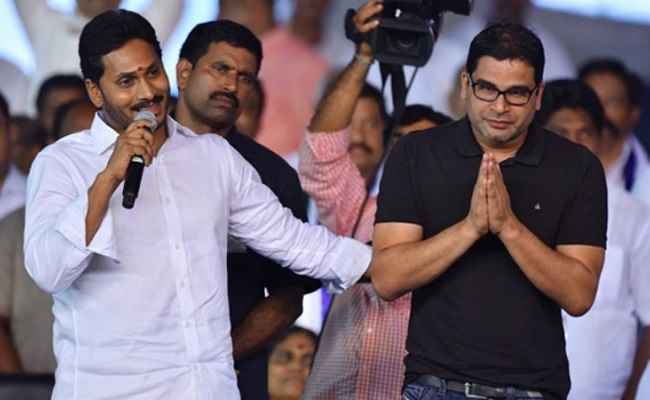 In a sudden development, political strategist and founder of Indian Political Action Committee (I-PAC) Prashant Kishor met YSR Congress party president and Andhra Pradesh chief minister Y S Jagan Mohan Reddy at the latter's camp office on Friday afternoon.
The meeting went on for more than three hours and nobody knows what transpired between them. It is not exactly known whether Prashant came to Tadepalli on his own or on the request of Jagan, but the meeting has generated a lot of curiosity among the political observers.
According to some speculations, Jagan himself called Prashant Kishor to Vijayawada to seek the latter's advice in countering the onslaught from the opposition with regard to attacks on temples and desecration of idols in the recent past.
Since the Bharatiya Janata Party is trying to make big advantage of the temples issue and the Centre is making serious inquiries, Jagan is learnt to have asked Prashant's suggestions on how to overcome this crisis.
Since Prashant is also a master strategist in social media campaign, the chief minister reportedly sought his advice in countering the TDP campaign.
At the same time, he also discussed the strategy to be adopted in the forthcoming by-elections to Tirupati Lok Sabha seat.
However, there is also another talk doing rounds in a section of media. According to this, Prashant himself came to Vijayawada to meet Jagan at the behest of Trinamul Congress chief and West Bengal chief minister Mamata Banerjee.
Apparently, Mamata is using the services of Prashant to mobilise the support for her campaign against the BJP.
"He must have come personally to invite Jagan to the national conclave being held by Mamata in Kolkata next month," source said.