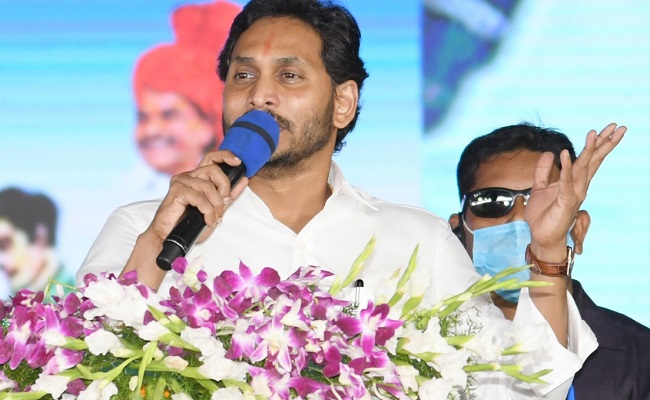 YSR Congress party president and Andhra Pradesh chief minister Y S Jagan Mohan Reddy is trying to break away from monotony in attacking his political rivals these days in order to attract the attention of the audiences.
Apparently, he felt that the repeated dialogues that he had been using such as "Dushta Chatushtayam" and "Dattaputrudu" have not been getting good response from the people. So, his campaign managers are suggesting certain modifications in the dialogues.
On Friday, Jagan was at his satirical best in attacking the political rivals, while addressing the people at Narsipatnam, after inaugurating a series of projects.
While explaining the good work done by his government in the last three and a half years, Jagan as usual came down heavily on his rivals – TDP president N Chandrababu Naidu and Jana Sena Party chief Pawan Kalyan.
Targeting Naidu, the chief minister said politics was not about doing photoshoots, drone shots and dramas.
"For the sake of publicity and projecting that there is a huge crowd for his public rally, Naidu held the road show in a narrow lane, resulting in the death of eight people in a stampede," he criticised.
Taking pot shots at the TDP president, Jagan went on to say that Naidu had the habit of making tall claims for every achievement.
"If P V Sindhu wins badminton title, Naidu says he had taught her the game. First of all, why should people come to your meetings, Babu, after having known your cheating," he asked.
Targeting Pawan Kalyan later, Jagan said it was Chandrababu Naidu who provided screenplay, production and direction to Jana Sena Party.
"One leader conducts public meeting in the neighbouring states as he was rejected in this state. Another leader chooses one wife, if not the other. This gentleman's party doesn't have even a single MLA and he, himself lost the elections in two places," he said.
He alleged that Pawan gives call sheets to his public meetings and reads out the script given by Naidu.
"He acts according to the directions of Naidu. The adopted son carries his foster father on his head," he criticised.