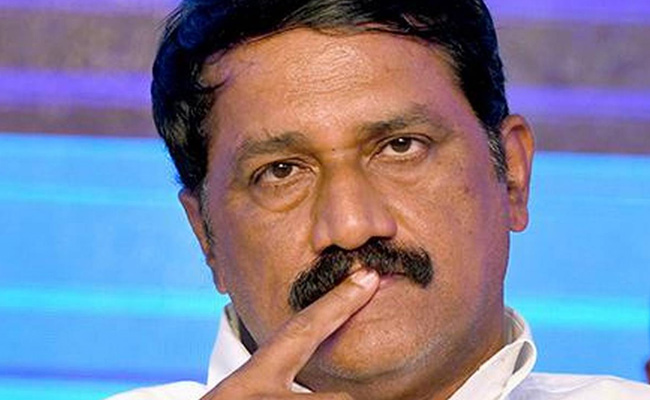 Former minister and Telugu Desam Party legislator from Visakhapatnam (north) Ganta Srinivasa Rao, who is facing a sort of political uncertainty, continues to receive setbacks even in his business ventures.
Several properties belonging to Ganta's company Pratyusha Resources and Infra Pvt. Ltd are going to be e-auctioned on November 25 by a consortium of banks led by the Indian Bank for recovering its loan dues to the extent of Rs 248.03 crore.
A notification to this effect was published in the dailies on Thursday. The consortium of banks has already issued several notices for the past one year on Ganta and his other associates including Parchuri Bhaskar Rao, P Raja Rao, P V Prabhakar Rao and K B Subrahmanyam.
As many as 26 properties at various places in Visakhapatnam including at Gajuwaka, Chinagadali, Rushikonda, Madhurawada, Anandapuram, Anakapalli and Kakinada were earlier attached by the Indian Bank in December 2018 itself.
The bank authorities said Ganta had stood as surety for the company to obtain loan to the extent of Rs 141.69 crore and along with interest, the loan outstanding mounted to Rs 248 crore at present. The company had defaulted in payment of dues to the Indian Bank.
The Pratyusha Resources and Infra Private Limited was registered under companies Act on August 18, 2005, with its registered address at Visakhapatnam. All the directors are very close relatives of Ganta Srinivasa Rao.
Though Ganta has been claiming that he had nothing to with the company, as he had resigned from the director post in 2011 itself, the bank authorities have mentioned that the properties being put up for auction also includes Ganta's personal assets.
It is definitely a setback for Ganta, who has already been facing troubles politically. Though he got elected on TDP ticket in 2019, he has been staying away from the party activities since it lost power.
He made a desperate attempt to join the YSR Congress party, but somehow, his entry was stonewalled by his rivals in the party.
Having seen his overtures to the YSRC, the TDP leadership, too, has started ignoring Ganta, who could not find a place in any of the party committees.