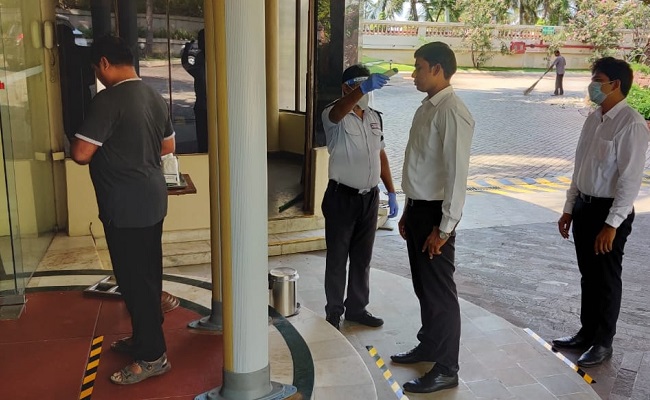 On a day when lockdown measures were relaxed and businesses opened up, the common public in Andhra Pradesh were seen moving freely, most of them without a mask, with Unlock 1.0 entering its second week on Monday.
"Most people are not wearing masks. People are moving around freely, both on foot and on vehicles," Anil Kumar Govada, who drove from Kalla Mandal in West Godavari district to Vuyyuru in Krishna district on Monday morning, covering a distance of 78 km, told IANS.
"I have seen some devotees at a temple in Singarayipalem in Krishna district," said Kumar about the village which is enroute Gudivada town.
It's mostly business as usual in these districts, kirana stores, shops, small hotels, vegetable shops and others are all open for business, all of them falling into the unorganised business category.
Most of the people were freely moving around without maintaining any physical distancing or wearing a mask.
A few Andhra Pradesh Road Transport Corporation (APSRTC) buses were seen plying the roads but not many passengers were seen inside the buses.
Likewise, the roads were also not busy as the traffic was lesser.
The situation was similar in Vuyyuru also, where most shops were open and people were freely moving around to buy essentials without Covid fear.
"Almost every shop is open in Vuyyuru, including some people selling fish," said Kumar.
According to Kumar, though Covid rules are stricter in Andhra Pradesh than in Karnataka, he said adherence is lesser in the Telugu state. Kumar is a native of Vuyyuru who works as a software engineer in Bengaluru.
G. Bhaskar, a resident of Gudivada, said that no physical distancing is being cared for by the public.
"Most people are neither wearing a mask, nor maintaining social distancing," Bhaskar told IANS.
A resident of Penamaluru near Vijayawada, Bhaskar said that similar is the case in his hometown.
Between Yelurupadu and Juvvalapalem, a police check-post manned by constables from Kalla police station was seen monitoring the movement of vehicles.
The police were intercepting vehicles plying in the night and recording their details. On Monday, some vehicles arriving from Telangana to Andhra Pradesh were stopped at the border. Only those people who had submitted their details to the government on Spnandana portal were allowed.
Meanwhile, most religious places have gone silent, unlike pre-lockdown times when many churches and temples would play religious music regularly.
The Layman's Evangelical Fellowship Church in Kalla has gathered much dust in its premises as it was not opened for more than two months during the lockdown.
Meanwhile, Indian Hotels Company Limited's (IHCL) Visakhapatnam property, The Gateway Hotel Beach Road, is demanding a health declaration from guests interested in staying at the hotel.
"If you come by road, we need a health declaration form from your side and when you come to the hotel, we will do a thermal check on you," a hotel executive told IANS.
The Taj group hotel has also made arrangement for a no contact check-in, without the requirement of writing anything as the hotel staff will do it.
"We will give you the key and it is more of self-service and your room is completely cleaned and sealed, so you will be the first person to enter your room. We will not enter your room," the executive said.
The hotel has sanitised and fogged the rooms and following the departure of a guest after his stay, the room will be set aside for three days without any check-in for sanitisation.
"The room is not rented out to anybody (after a check-out) for three days to completely clean it," the executive said.
That means every room is left unoccupied for six days before and after a check-out.
The hotel has prepared to use only 50 per cent capacity of its restaurants and has arranged hand sanitisers and wipes.
Similarly, the Taj hotel has taken off buffets from the menu and only ala carte orders are available.
The Gateway Hotel Beach Road has marked it floor and lobby with a red tape to direct guests to maintain physical distance. The middle seat in a sofa has been marked out for non-occupation.
"Safe practices for Covid, wear mask, use hand sanitizer and maintain social distance," said a notice in the hotel.
Even inside the washroom, in a row of four urinals, two have been marked out and television remote controls have been sealed in plastic covers.
Likewise, the hotel has introduced a new contactless menu, enabling a guest to choose his selection after scanning a QR code.
In Vijayawada, the PVP Mall has made arrangements for hand sanitisers in the mall and marked every two steps of the escalator to be not occupied.
"We have made a queue arrangement inside the mall and everybody has to follow it. We are giving a mask and sanitising our employees. Our operating hours are reduced unlike before," said a mall official.
No visitor will be allowed inside malls without a mask.
(Sharon Thambala can be contacted at thambalasharon@gmail.com)