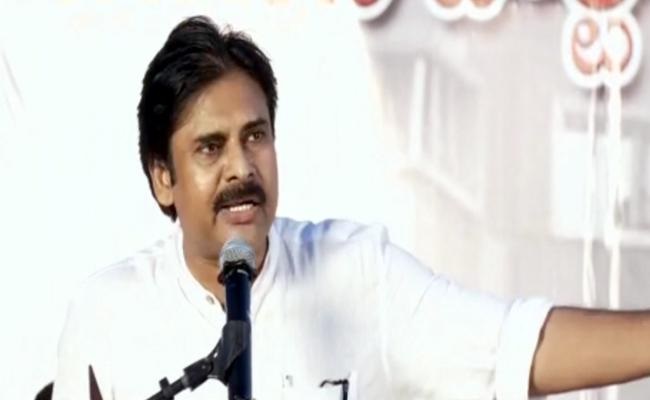 Jana Sena Party chief and actor Pawan Kalyan's meeting at Visakhapatnam on Sunday in support of agitating workers of steel plant against the Centre's move to privatise it has drawn huge criticism from the ruling YSR Congress party.
The reason is that Pawan sought to blame the Jagan Mohan Reddy government at the state, rather than the Narendra Modi government at the Centre, for the privatisation move, while extending solidarity with the agitating workers.
"We have not sported cauliflowers in our ears, if the Jagan government says the privatisation is the central government's decision. The chief minister is trying to wash off his hands by just writing letters to the Centre and passing resolutions in the state assembly. People won't get carried away by such gimmicks," the Jana Sena leader said.
He demanded that the YSRC should take to streets and lead the agitation to bring the pressure on the Centre to drop the steel plant privatisation move.
"The Jagan government should call for an all-party meeting and lead a delegation to Delhi to prevail upon the Centre," Pawan said.
He fixed a one-week deadline for the state government to form the all-party committee to discuss the steel plant privatisation issue and take up the matter with the Centre.
"If it doesn't do, I will enter into direct action and take up the movement in a big way," he announced.
The YSRC leaders shot back at Pawan Kalyan strongly for his stand on the Visakhapatnam Steel Plant privatisation.
"Nobody understands what he is up to. Instead of attacking the centre which is responsible for privatisation, how can he target the state government?" state home minister M Sucharita asked.
She said Pawan wants to maintain good relations with Modi, but attacks Jagan.
"He lacks consistency in politics. That is why people won't believe him. If he has so much concern for the steel plant workers, he can as well talk to the BJP at the Centre and force it to drop the privatisation move," she suggested.
YSRC state official spokesman and Anakapalli MLA Gudivada Amarnath said the way Pawan Kalyan took up the agitation for steel plant after such a long time was like dogs barking six months after the theft taking place.
"Why was he silent when the steel plant workers were agitating for the last 260 days? And now, he doesn't utter a word against the BJP, but blames the YSRC government," he criticised.
Stating that the YSRC had been extending support to the agitation against steel plant privatisation, Amarnath said the YSRC MPs led by V Vijay Sai Reddy raised the issue several times in Parliament and even stormed the podium demanding withdrawal of the decision on privatisation.