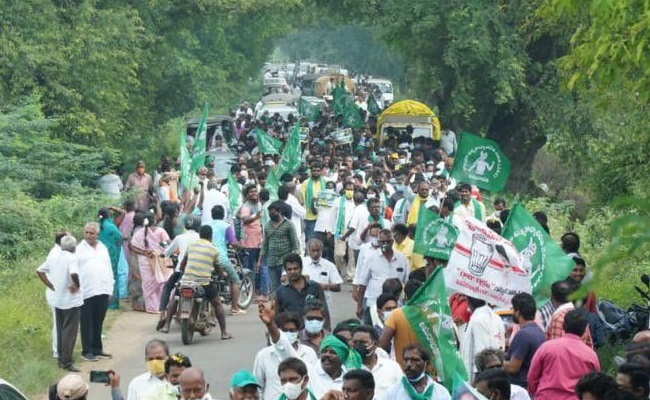 Nyayasthanam and Devasthanam must know what will happen to Amaravati after that Tirupati meet, but it is understood that several leaders are slowly withdrawing from the movement.
After 700 days of the continued 'agitation' by the Amaravati farmers, some faces are vanishing from the foreground, while some new faces are surfacing from the background.
One of such new faces is that of an actor Sivaji, who was not seen after the 2019 general election.
The actor who gave theories of "Operation Garuda" and some trash before the 2019 elections giving his own political analysis.
Later, after the elections, he disappeared and was never seen in the state, not even in the Amaravati agitation. But he was seen on the day when the farmers held a meeting in Tirupati, speaking the same old style of his politics.
The prominent faces that disappeared from scene are that of former minister Vadde Sobhanadreeswara Rao and social activist Chalasani Srinivas.
These two, besides others, have been in the Amaravati issue and have voiced against the three capitals proposal of the present government. They are not seen these days and not even speaking on the issue.
Kolikapudi Srinivas, one of the prominent activists for the Amaravati agitation since its beginning, was conveniently pushed to the backrow now and Rayapati Sailaja is brought to the front row.
Once most-favoured mouth piece of Amaravati and TDP, Kolikapudi Srinivas, is now disowned by both Amaravati and TDP for the reasons best known to them. Rayapati Sailaja is now made to lead the movement.
Interestingly, senior Congress leader Sunkara Pradmasree, had been active in the movement for all these days.
She also led the farmers' delegation to Delhi recently where they met leaders of all political parties. Now, she is not seen so prominently and Rayapati Sailaja takes the lead.