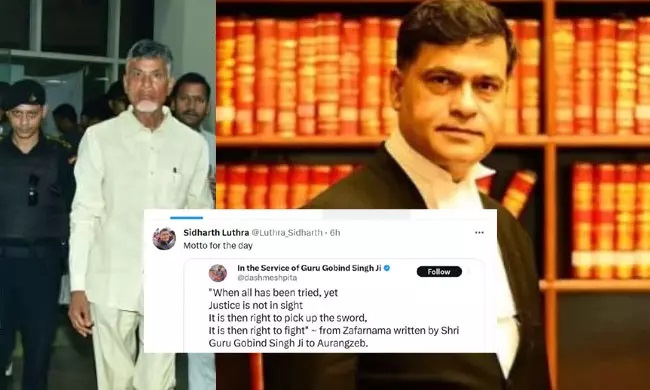 After seeing that Telugu Desam Party president and former Andhra Pradesh chief minister N Chandrababu Naidu is thrown behind the bars in Rajahmundry Central Jail, the ruling YSR Congress party is now targeting his senior counsel and Supreme Court advocate Siddharth Luthra.
On Friday, a group of YSRCP leaders led by former MLA Routh Suryaprakash Rao, lodged a complaint with the Rajamahedravaram police station in East Godavari district, seeking booking of a criminal case against Siddharth Luthra.
They alleged that the Supreme Court advocate was instigating people to take to weapons to fight against the Jagan Mohan Reddy government, after he failed to secure bail to Naidu in the skill development corporation case.
What did Luthra say that gave a chance to the YSRCP to target him? After the ACB court rejected bail to Naidu and remanded him to judicial custody, the Supreme Court took to X (earlier twitter) to post a quote of Sikh preacher Guru Gobind Singh.
The tweet read like this: "Motto of the day: When all has been tried, yet justice is not sight, it is then right to pick up the sword, it is then right to fight – from Zafarnama written by Guru Gobind Singh ji to Aurangzeb."
Obviously, Luthra posted this quote of Guru Gobind Singh after he was upset for not getting "justice" to his client – Chandrababu Naidu. It is not immediately known what he was planning to say, but it has given the impression that the people should fight against the government to get justice to Naidu.
It may not be the intention of Luthra that one should really pick up a sword to fight against the government, but it certainly sent the same message. No wonder, the YSRC leaders took it in the real sense and filed a case against him.
Maybe, Luthra realized how his tweet has provoked the YSRCP leader. So, he put up yet another message on social media quoting this time Swami Vivekananda.
The tweet read like this: "Swami Vivekananda says in Karma Yoga - "A man must go about his duties without taking notice of the sneers and the ridicule of the world."
Luthra went on to add: "And definitely not by those who have neither read nor understood the words of the venerable 1Oth guru who stood for justice and piety!!"
Luthra is now back in Delhi, after meeting Naidu in Rajahmundry central jail on Thursday afternoon and holding confabulations with Naidu's son Nara Lokesh. He is expected to return on Monday, when the case comes up for hearing in the state high court.