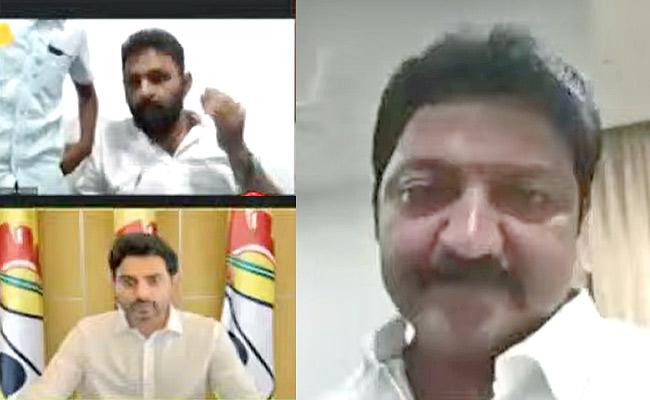 An attempt made by Telugu Desam Party general secretary and president N Chandrababu Naidu's son Nara Lokesh to gain some political mileage by blaming the Jagan Mohan Reddy government for the poor results in SSC examinations boomeranged on him.
On Thursday, Lokesh arranged a zoom meeting with some failed students of 10th class and also their parents to know why they had failed in the examination and what difficulties they had faced in writing the examination.
The login and password for the zoom meeting were made public in advance to enable the students attend the meeting online.
The intention of Lokesh was very clear. By taking the feedback from the students in the stage-managed zoom meeting, he wanted to convey to the message to the people that the Jagan government has grossly neglected the education sector and failed to provide quality education to students.
A few minutes after the commencement of zoom meeting, a girl student got connected to the meeting and said his uncle would speak to Lokesh.
Even as he was asking the girl to speak for herself, YSRC social media in-charge Devender Reddy suddenly came on line and started questioning him as to why the TDP was trying to politicise the Class X examination results.
Even before Lokesh said anything, Gudivada MLA Kodali Nani and Gannavaram MLA Vallabhaneni Vamsi appeared on the screen one after the other. The screenshot of the YSR Congress party leaders was also sent to Lokesh.
Quickly, the zoom meeting organisers disconnected the lines.
Enquiries revealed that the girl entered into the meeting from the office of Vamsi and the two YSRC leaders deliberately planned to play spoil sport with Lokesh's zoom meeting aimed at tarnishing the image of the YSRC government.
Lokesh later found fault with the YSRC leaders for barging into the zoom meeting in a stealthy manner.
"I won't talk to them on zoom. Let them come in public; I will give them answers to their doubts," he said.
Kodali and Vamsi also strongly reacted to Lokesh's comments, saying it was a pre-organised zoom meeting with some fake students only to damage the reputation of the Jagan government politically.
The YSRC leaders said the students could not regain their academics due to irregular running of classes on account of Covid-19 pandemic; and the lower-rung classes had no access to tabs and smart phones; resulting in their failure in the Class X.
"How can Lokesh give lectures to failed students, who are already depressed and when some of them have died by suicide?" Vamsi and Kodali asked.