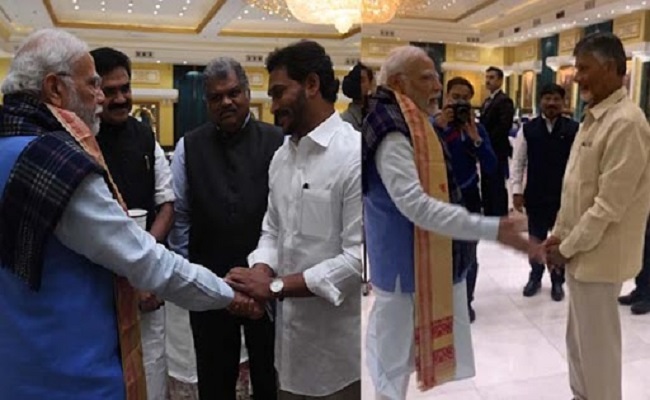 As expected, the pro-Telugu Desam Party media in Andhra Pradesh went overboard to shower encomiums on party president and former chief minister N Chandrababu Naidu for his "visionary" speech at the all-party meeting on India's role as the head of G-20 nations held by Prime Minister Narendra Modi in New Delhi on Monday.
At the same time, this media sought to run down YSR Congress party president and chief minister Y S Jagan Mohan Reddy on his interaction with the Prime Minister after the all-party meeting.
The media sought to give the impression that the Prime Minister and all the chief ministers who attended the meeting were overawed by the speech of Naidu, who spoke on the need to use technology and digital knowledge to make India No. 1 in the world in the coming years.
Here are some funny highlights from yellow media channels and dailies:
- A TDP allied TV channel reported how the Central Ministers received Chandrababu Naidu at the meeting place. The fun element here is that the visual of only Raghu Ramakrishnam Raju receiving Chandrababu was shown much to the amusement of viewers.
- There was none around when Modi and Jagan were talking. How can the yellow media know what conversation went on between them? Well, that's why it's called 'yellow' media.
- The pro-TDP channels projected CBN's as the best-ever speech at the meeting and it was acknowledged even by the Prime Minister in his closing remarks.
- On the other hand, Jagan Mohan Reddy, too, gave a brief but impressive speech for a few minutes, but the pro-TDP media played it down. Instead, they highlighted Modi's enquiry about the ill-treatment meted out to Sharmila by the Telangana government.
- Though it was not immediately known what exactly Modi asked and what Jagan said, the yellow media said the YSRC president was embarrassed when Modi asked him why he was silent when his sister was being humiliated by the TRS government. Since neither Modi nor Jagan would be able to confirm or deny what transpired between them, they can write whatever they want to run down the YSRC chief!
There is a popular dialogue of Rao Ramesh from Seetamma Vakitlo Sirimalle Chettu- "vallani alaa vadilekandra babu. evadikannaa choopinchandi". People of AP and Telugus in general are saying the same line within themselves reading and watching the hilarious stuff on TDP allied media.