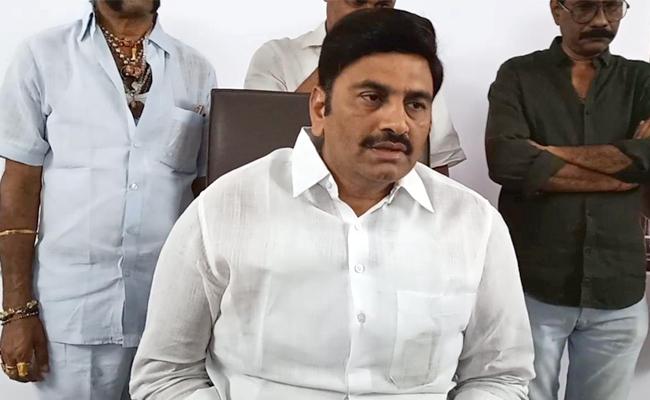 It is not yet clear whether or not YSRCP MP from Narasapuram Kanumuru Raghurama Krishnam Raju will be disqualified from his Lok Sabha membership, but it looks certain that he is going to face criminal prosecution by the police in his own state.
Close on the heels of state housing minister Ch Sriranganath Raju who filed a criminal case against Raghurama Krishnam Raju in Poduru police station in Achanta parliamentary constituency stating that the MP had defamed him in public, some more MLAs from West Godavari district also filed similar cases against him.
On Thursday, Bhimavaram MLA Granthi Srinivas filed a case in the one-town police station in Bhimavaram charging Raghurama Krishnam Raju with abusing him and other YSRC MLAs in foul language.
In his complaint, the MLA alleged that Raghurama Krishnam Raju had referred to him and other MLAs as a flock of pigs.
"He is playing caste card and trying to instigate groupism in the party and create law and order issues," the MLA said.
He requested the police to take action against the MP for abusing the party MLAs and damaging their prestige in public. He also sent a copy of the complaint to district superintendent of police.
Similarly, YSRC MLA from Narsapuram Mudunuri Prasada Raju also lodged another separate complaint with the local police against Raghurama Krishnam Raju, alleging that the latter had called him pig.
Two other MLAs – Karumuri Venkata Nageshwar Rao from Tanukgu assembly constituency and Kottu Satyanarayana from Tadepalligudem are also getting ready to file separate complaints against Raghurama Krishnam Raju.
It may be mentioned that Sriranganath Raju demanded that a criminal prosecution be launched against the Narasapuram MP for his alleged derogatory comments against the party MLAs and ministers.
CLICK HERE!! For the In Depth Updates on all the OTT Content